This is a proposal that I prepared for Kickstarter. It is already loaded and can be activated at any time. As a test, I surveyed the entire NGO world that supposedly cares about the Middle East (this took months). I got no direct offers of financial support, although a number of Muslim groups thought that it was great.

For the price of a couple of guns, we could promote an alternative to conflict. Given the rigid mindset that is now in place, though, the goal seems to be only to buy more guns.


LESSONS IN DEMOCRACY - ARABIC TRANSLATION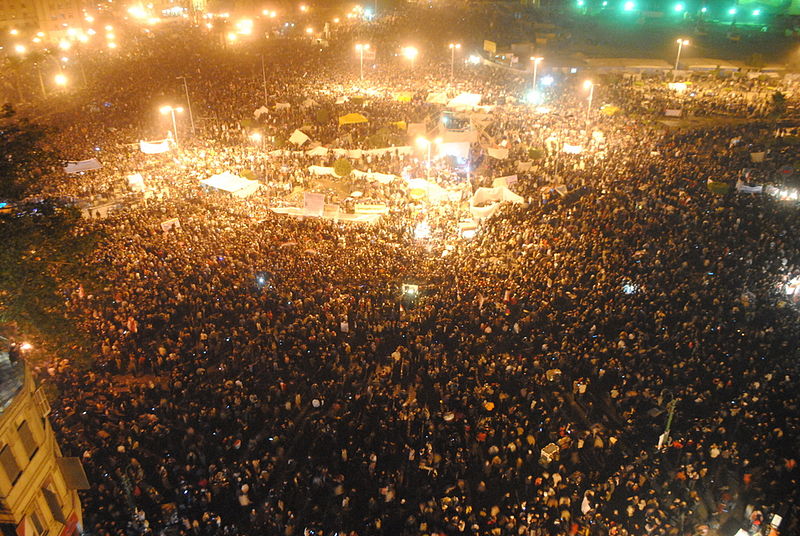 Photo: Egypt's Tahrir Square, Arab Spring, by Lilian Wagdy, Source - Wikimedia Commons


OUTLINE
This is a proposal for a new initiative to achieve peace between Muslims and other communities. The approach has never been tried before. It is based on a simple premise: For there to be peace, Muslim countries must become democratic. Around the world, democratic countries - while they may compete economically - are at peace with one another. Were Muslims countries to become democratic as well, they too would join the Worldwide Zone of Peace.
For this, their citizens need to learn about democracy. Only through acquiring this knowledge will they be able to organize sufficiently great pressure to demand political change. This proposal in turn will provide this education, through raising the funds to prepare - and distribute throughout the Middle East - an Arabic translation of a book titled Lessons in Democracy. Our objective is 250,000 downloads of the translation, which in turn will help motivate a vibrant movement for democratic change.
The Arab Spring demonstrated that Muslim people around the world want modern rights and freedoms. There is widespread longing for education about democracy, and which once provided will spread quickly from person-to-person. This project will fulfill that desire.
LESSONS IN DEMOCRACY
Lessons in Democracy is a basic guide to the democratic system. It consists of twenty short lessons, two to three pages each, and broken into four parts: The principles; roles and responsibilities; institutions; and challenges of democracy.
The total text in English is 60 pages. Even though democracy is often considered to be a controversial subject, the lessons were designed to be as objective and non-partisan as possible.
The lessons have already been translated into Chinese, Burmese, Azerbaijani, and the Shona and Ndebele languages of Zimbabwe. For Azerbaijani, downloads are in the thousands of copies, which are also read in Northwest Iran. The Chinese translation was backed by one of the world's leading Chinese dissidents, Wei Jingsheng, who spent eighteen years as a political prisoner. While the actual download number for the translation is unknown, the probable readership is likely huge. Even though the link has been blocked by China's Great Firewall, a large effort has been made to infiltrate the full pdf file into the country.
Downloads for the Burmese translation are over 20,000, and are approaching this for the two Zimbabwe languages together. It is because of this track record that we believe the 250,000 goal for the Arabic translation is achievable. There are over twenty countries in the Arab World, and we intend to promote the translation heavily in all of them.
This is a quote from Mr. Wei about the book:
"I recommend this "Lessons in Democracy" to our Chinese friends both inside China and overseas. We are sending you this simple textbook which is brief but to the point. The author Roland Watson is an American writer and activist, who spent years helping people under dictatorships to gain their freedom and democracy. The Chinese version of "Lessons in Democracy" is translated by the Wei Jingsheng Foundation. This brief textbook is particularly suitable for the freedom and democracy striving people in the developing countries to read.
The special characteristics of this "Lessons in Democracy" is that it is easy to understand and concise, unlike many formal academic works which are often voluminous yet obscure. It is not an attempt to explore abstruse theory, or to debate issues of uncertainty. It simply lets people learn the mature modern democratic system as it has developed over the past few hundred years, in an effort to provide a general understanding of the essence of democracy."

The Chinese translation was launched in the United States Capitol. This is Radio Free Asia footage of the launch. Mr. Wei opens, and Roland Watson speaks at 4:25.

TRANSLATION
The translation will be prepared by a leading Arabic specialist, Beyond Words. Translating the principles of democracy is in fact quite challenging, particularly for languages used by societies that have no history of democratic government. For this reason, we need to have the best quality translation possible.
The translation cost is $5,000, and will take a month to prepare. This means we can begin promoting a systematic approach to democracy education, throughout the Middle East, by September.
TRANSLATION PROMOTION
We will be working with a group of activists, based in Malaysia, and who have contacts throughout the Middle East. They are exiled members of the Rohingya minority of Burma, considered the world's most persecuted people. It is laudatory that in addition to their advocacy for their own people, they are willing to help spread democracy education throughout the Muslim world.

When the translation is completed, the pdf file link will be posted to the Lessons in Democracy website, using the Arabic-language version of the name. The site link and the pdf file will then be publicized in a press release, with versions in both English and Arabic.
We will immediately communicate this press release to a wide range of traditional and social media, both pan-Arab and nation-specific for all Arabic-speaking countries. We have already created a directory of eight hundred media outlets and civil society groups. We will then follow up the press release with person-to-person contacts, to an extensive array of journalists and civil society activists.
Through all of this, we expect that the Arabic translation will attract intense and substantial interest. The progress of the initiative will regularly be updated on Twitter and the Lessons in Democracy website.

ADDITIONAL PROJECT BACKGROUND

RISKS AND CHALLENGES

This project has minimal risk of failure. If we receive the funding goal, the professional translator will complete the translation. We will then promote it, and anticipate a very good response. We have a lot of contacts, so there will be one network focal point after another for follow-on distribution. Going viral in the Arabic-speaking world is definitely achievable.

SUMMARY
The quest for peace in the Middle East begins with educating the people of the region about democracy, a real education, so they want it and will work for it. This project can make a big contribution to that goal. Please make a donation.
You may also have your name listed as a Supporter in the pdf file of the book, if you desire.

CLOSING COMMENT
They say that to have a successful Kichstarter funding campaign, your friends should contribute up to 20% of the total. That way you can build some momentum. I don't have a lot of friends who have a lot of money, but a few people have said that they would help. This means we will have to rely on the general public more than normal to reach our goal.
Many people think, to hell with the Middle East. Indeed, I never did any direct activism in the region, since almost all the sides in the different Middle Eastern conflicts commit atrocities. I won't work on an issue or with a group unless it, and they, are ethical. There are lots of good people out there, and my goal in life has been to help them against the bad. This is my first foray then into this world, and with a project that doesn't take sides (other than against dictatorship) and which to me at least seems pretty benign - teaching democracy. I understand that many people will actually view even this mild step as objectionable. My hope is that enough of those people who haven't yet given up, who want to see peace and who realize that there has to be an alternative to never-ending war, will think that it is worthwhile.