LESSONS IN DEMOCRACY - ARABIC TRANSLATION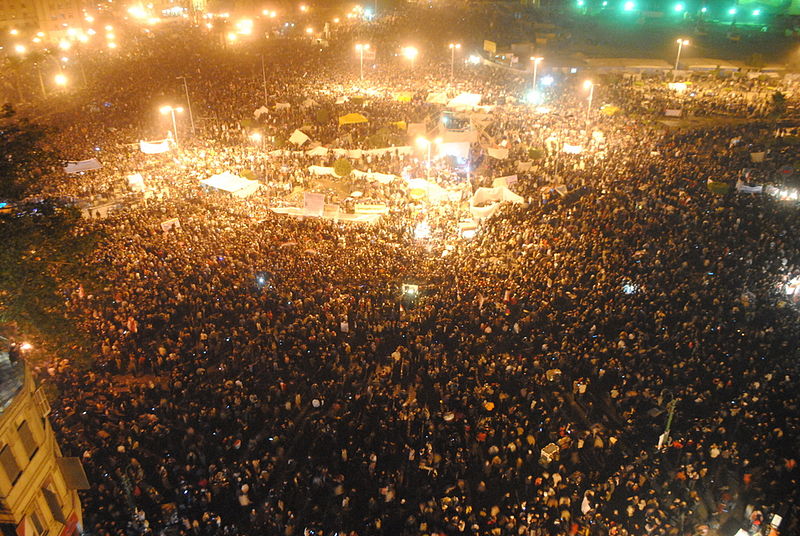 Photo: Egypt's Tahrir Square, Arab Spring, by Lilian Wagdy, Source - Wikimedia Commons

OUTLINE
This is a proposal for a new initiative to help achieve peace within and with the Muslim world. The approach has never been tried before. It is based on a simple premise: For there to be peace, Muslim countries must become democratic. (Unfortunately, many if not most are not.) Around the planet, democratic countries - while they may compete economically - are at peace with one another. Were Muslims countries to become democratic as well, they too would join the Worldwide Zone of Peace.
For this, their citizens need to learn about democracy. Only through acquiring this knowledge will they be able to organize sufficiently great pressure to demand political change. This initiative in turn will provide this education, through raising the funds to prepare an Arabic translation of a book titled Lessons in Democracy. Our objective is 250,000 downloads of the translation, which in turn will help motivate a vibrant movement for democratic change.
Right now there are in fact two movements underway in the Muslim world: Progressive Islam, where communities are pushing for an interpretation of the religion that is able to co-exist harmoniously with modern society; and Pro-Democracy, to secure their human rights. These two movements are linked.
The Arab Spring demonstrated that Muslim people around the world want modern rights and freedoms. As part of this, there is widespread longing for education about democracy, and which once provided will spread quickly from person-to-person. This project will fulfill that desire.
ORGANIZER BACKGROUND
My name is Roland Watson, and I am a pro-democracy activist. In the early 1990s, I left my career to take a break and to fulfill my lifelong dream to travel around the world. At the time I certainly thought that I would return to a normal job. I traveled on my own and spent a lot of time in rural areas of Asia, including Burma in Southeast Asia and which is also now known as Myanmar. I was captivated by the friendliness and spirit of the people, and appalled at the repression that they suffered at the hands of the country's military dictatorship. I also met a number of Westerners who were already involved in the situation, mainly retired soldiers who were advising Burma's ethnic minority armed groups in their pro-democracy resistance against the dictatorship (which is run by racist generals from the largest ethnicity). I decided pretty much on the spot that this was a better purpose for my life than to spend it in an office. I moved to the region and set up an activist platform, Dictator Watch. My first public effort, I did a photography show about a group called the Karen National Liberation Army, at American University, University of North Carolina, Indiana University, the University of Oklahoma, and the University of Wisconsin. In the last 24 years I have worked with many different groups, and on a wide range of pro-freedom projects.
A complete background of my advocacy is available on the Dictator Watch website, including the Reverse Chronology of Organization Activity link. My current actions are also posted on my Facebook page.
In the mid-2000s, my colleagues and I realized that the only hope for real freedom for Burma was a widespread popular uprising. Working with student activists and ethnic rebels, we prepared fliers in Burmese calling for revolution and infiltrated thousands of them into the country. In 2007 what became known as the Saffron Revolution erupted, led initially by students and then Buddhist monks. The protests grew to hundreds of thousands of people, at which time the Burma Army launched a crackdown. The uprising failed, although I have always believed that had the number of people in the streets reached millions, it would have succeeded.
This was a huge disappointment. As a way to reflect on it, I spent a year writing a book about democracy, reasoning that the next time the people of Burma could be organized, the more they knew about the political system the more effective and powerful their protests would be.
LESSONS IN DEMOCRACY
Lessons in Democracy is a basic guide to the democratic system. It consists of twenty short lessons, two to three pages each, and broken into four parts: The principles; roles and responsibilities; institutions; and challenges of democracy.
The total text in English is 60 pages. Even though democracy is often considered to be a controversial subject, the lessons were designed to be as objective and non-partisan as possible.
The lessons have already been translated into Chinese, Burmese, Azerbaijani, and the Shona and Ndebele languages of Zimbabwe. For Azerbaijani, downloads are in the thousands of copies, and which are read in Northwest Iran as well. (This is also know as Southern Azerbaijan, since the Azerbaijani people were partitioned in a series of 19th century treaties. There is even a Southern Azerbaijan National Wakening Movement, and many of the recent protests in Iran were in this region.)
Downloads for the Burmese translation are over 20,000. The book has also been printed and distributed inside the country by multiple parties. It was even being serialized in a magazine at one point, before the regime forced this to stop. I do not have a good idea of what the total readership might be, but one thing that is clear is that it is the first book about the democratic system ever available in Burmese.
For Zimbabwe, Robert Mugabe was removed as dictator last November. Lessons in Democracy was translated into the country's two principal languages, Shona and Ndebele, in 2009. The first is used in the North (where Mugabe had his base) and the second in the South. In the intervening years each approached 10,000 downloads. Last October, the month before the Mugabe purge, the Shona downloads took off again. There have now been another 4,000. I am very pleased to have helped the people of the country learn about democracy, and of the possibility that my guide was studied in the weeks before the dictator was deposed.
The Chinese translation was prepared in 2010, in both the Traditional and Simplified character sets, by the Executive Director of the Wei Jingsheng Foundation. (The translation was checked by a well-known but uncredited Chinese author.) Mr. Wei is one of the original Chinese dissidents. In 1978 (eleven years before the Tiananmen Square massacre), he posted on Beijing's "Democracy Wall" a demand for a "Fifth Modernization" - political modernization from communism to democracy. (This was an addition to four other changes just announced by then dictator, Deng Xiaoping.) Mr. Wei was arrested when he later took credit for the statement. He spent almost nineteen years in prison, with five in solitary confinement. He won the U.S. Robert F. Kennedy Human Rights Award and the European Sakharov Prize. However, he was shunned by the Nobel Peace Prize Committee. Mr. Wei advocates tangible action for democracy. The Committee prefers pacifists, who only talk.
The Chinese translations still get fifty downloads a day. Total downloads are now a couple of hundred thousand, with most from Mainland China through VPNs and other techniques to breach the Communist Party's Great Firewall. (Dictator Watch, and of course the Foundation's website, are blocked in China.) Since each download can be read by multiple individuals, including through the pdf files being renamed and shared, the Chinese audience may be in excess of one million people. This is also extremely rewarding. Even though the current dictator Xi Jinping has increased the country-wide repression, it is clear that the citizens want freedom and human rights.
I have further communicated with Joshua Wong, one of the leaders of Hong Kong's 2014 Umbrella pro-democracy movement (and nominated along with his associates by a group of U.S. Congresspeople for this year's Peace Prize), who also shared the translations.
This is a quote from Mr. Wei about the book:
"I recommend this "Lessons in Democracy" to our Chinese friends both inside China and overseas. We are sending you this simple textbook which is brief but to the point. The author Roland Watson is an American writer and activist, who spent years helping people under dictatorships to gain their freedom and democracy. The Chinese version of "Lessons in Democracy" is translated by the Wei Jingsheng Foundation. This brief textbook is particularly suitable for the freedom and democracy striving people in the developing countries to read.
The special characteristics of this "Lessons in Democracy" is that it is easy to understand and concise, unlike many formal academic works which are often voluminous yet obscure. It is not an attempt to explore abstruse theory, or to debate issues of uncertainty. It simply lets people learn the mature modern democratic system as it has developed over the past few hundred years, in an effort to provide a general understanding of the essence of democracy."

The Chinese translation were launched in the United States Capitol. This is Radio Free Asia footage of the launch. (The Chinese characters highlighted in blue - below the mp3 audio file - are the video link.) Mr. Wei opens, and I speak at 4:25. The translation links on the Foundation's website are in the navigation frame under Resources and Subjects.

ARABIC TRANSLATION
The world's Muslim population is some 1.6 billion people. A high percentage further read Arabic, because it is the language of the Koran. They are taught it as children.
In the Arabic speaking world, over twenty countries are either not free or only partly free. We will promote the translation in all of them. While I said in the Outline above that our goal is 250,000 downloads, over an extended period we hope to reach millions.
The translation will be prepared by a leading Arabic specialist, Beyond Words. Translating the principles of democracy is in fact quite challenging, particularly for languages used by societies that have no history of democratic government. For this reason, we need to have the best quality translation possible.
The translation cost is $5,500, and will take a month to prepare. This means, if the crowdfunding project is successful, that we can begin promoting a systematic approach to democracy education, throughout the Muslim world, by summer.

(As a comparison, the Unites States spends roughly $1.2 million every minute for defense. This proposal, which is original - the U.S. does not have a democracy education program designed to reach the general population in dictatorships, has a cost that is equivalent to one quarter of one second of America's defense budget.)

TRANSLATION PROMOTION
We will be working with a large group of activists and other contacts. As part of my Burma campaign I have been heavily involved in documenting and protesting the genocide of the Rohingya people of the country, a small Muslim group that lives in the Southwest, and which is now widely considered to be the most persecuted people on Earth. In the last year, the Burma dictatorship has burned 400 of their villages and almost 700,000 have been forced to flee for their lives to neighboring Bangladesh. Through my advocacy for their plight, I have made many contacts. I have 5,000 Facebook friends overall (and 1,400 followers), over 1,000 of whom are either Rohingya or fellow Muslim supporters from around the Middle East, South and Southeast Asia, and North Africa. Together, we should be able to spread word of the new initiative very quickly.
When the translation is completed, the pdf file link will be posted to the Lessons in Democracy website, using the Arabic-language version of the name. The site link and the pdf file will then be publicized in a press release, with versions in both English and Arabic.
We will immediately communicate this press release to a wide range of traditional and social media, both pan-Arab and nation-specific for all Arabic-speaking countries. We have already created a directory of eight hundred media outlets and civil society groups. We will then follow up the press release with person-to-person contacts, to an extensive array of journalists and civil society activists.
Through all of this, we expect that the Arabic translation will attract intense and substantial interest. The progress of the initiative will regularly be updated on Facebook and Dictator Watch.
Our funding goal is strictly for the translation. Any additional funds received will be used for the country-by-country promotion. The more money we receive, the more people we can contact, the quicker the translation will be distributed, and the higher the number of people who will read it.

RISKS AND CHALLENGES
This project has minimal risk of failure. If we receive the funding goal, the professional translator will complete the translation. We will then promote it, and anticipate a very good response. We have a lot of contacts, so there will be one network focal point after another for follow-on distribution. Going viral in the Arabic-speaking world is definitely achievable.
SUMMARY
The quest for peace within and with the Muslim community begins with educating the people about democracy, a real education, so they want it and will work for it. This project can make a big contribution to that goal.
We are hoping that a lot of people will agree that having a straightforward democracy education available in Arabic is a good idea.
Please make a donation, and please forward the campaign link to your friends.
Thank you very much.
All donors, if they desire, can also have their names listed as Supporters in the Appendix of the pdf file of the book.