BLOG: BURMA CONFLICT SITUATION REPORT
(www.dictatorwatch.org/burmaconflictblog.html)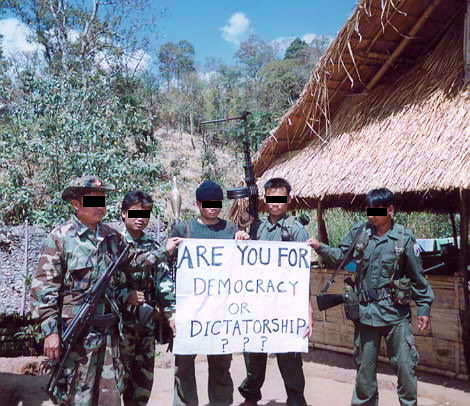 1. Burma is in a state of war, and has been since January 1949. This is when Ne Win, who became the first modern dictator of the country, had his private army commit atrocities against the Karen people (Burma's second largest ethnic group), and attack their political organizations in Insein Township, thus instigating the Karen revolution. The war in Burma, though, receives little international attention, because it is: (1) a civil war, within the country's own borders; (2) initiated by the military forces of the dictatorship against the nation's ethnic minority groups; and (3) which groups for the most part reside in mountainous or otherwise remote areas inaccessible to combat journalists. Also noteworthy is that the organizations that are working inside Burma, such as the United Nations and its affiliated aid agencies, under order of the dictators avoid the conflict zones.

Coverage of the war to-date is piecemeal. Some significant battles are described by expatriate Burmese media, including Irrawaddy, Mizzima, Democratic Voice of Burma, SHAN, and the other members of Burma News International. The Karen National Union, whose military wing the Karen National Liberation Army has been involved in the highest number of clashes with the Burma Army, also puts out summary military engagement reports. (To give one measure of the scale of the conflict that is underway, for the period January 1 to March 31, 2011, the KNLA was involved in 526 clashes with the Burma Army and - from October 1, 2010 - 21 with its affiliated Border Guard Forces, resulting in 416 known Burma Army KIA casualties and 15 known KIA for the BGF.)

There has never been an effort to track all the conflict that occurs in Burma, from the Mon, Karen and Karenni areas in the east, to the Shan and Kachin states in the north, to the Arakan, Chin and Naga areas in the west. This blog, which is a work in progress, will be just such an attempt. We appeal to all the different resistance groups that are engaged in conflict with the Burma Army and its proxies, including such groups information and media units, to send us descriptions of the clashes that occur in your areas of operation.

The description of a clash should include its date; resistance group and enemy units involved; location, i.e., state or division, district, and township; the type of clash, e.g., sniper attack, column ambush, outpost raid, equipment demolition, etc.; and the outcome.

We would also appreciate photo and video documentation, and maps.

2. The goal of the blog is to give a much better feel for what is happening with the war in Burma: the number, severity and character of the clashes that are taking place and where they are occurring and involving whom. This will also reveal that the vast majority of the conflict is ethnic related. It is driven by the racism and ethnic superiority aspirations of the military rulers of Burma.

The initiative should have many practical, positive outcomes, including:

- Prove that it is unsafe for refugees who have fled to Thailand, Bangladesh, Malaysia and elsewhere to return to Burma.

- Demonstrate that the sanctions that are now in place against the regime should not be ended. Instead, they should be expanded including with the enforcement of a global arms embargo. (Of note, such an embargo was efficiently put in place against the dictator of Libya, Muammer Gaddafi, after he similarly began to attack the Libyan people.) 

- Substantiate that there is full justification to begin a United Nations sponsored Commission of Inquiry on the regime's war crimes, and to pursue international intervention to end them including by such things as demanding Burma Army troops withdraw from the ethnic areas; the creation of an international peace-keeping force; and providing direct assistance to the resistance groups (as has also happened in Libya).

- More generally, illustrate that the situation in Burma is not improving, and that there is no possibility of gradual change. The regime must be removed. The "government" of the country is nothing but a collection of puppets, who follow the strict orders of the military rulers, foremost Senior General Than Shwe, who now command from outside the public eye. These generals must be expelled (just as Abidine Ben Ali and Hosni Mubarak have been expelled). This is the only way to end the war, the repression of Burma's ethnic nationalities, and also to shut down the regime's clandestine nuclear and ballistic missile cooperation with North Korea, China and Russia.


CONFLICT BLOG: Bookmark this blog for easy reference to Burma conflict news.

Please also see the reports of:

The Karen Human Rights Group
The Shan Human Rights Foundation


DECEMBER

December 6
KIA attack kills three army officers on Mandalay-Muse Highway

KIA attacks another BA convoy.

December 6
Yawdserk: Ceasefire pact yet to be enforced

SSA-S ceasefire deal not yet operational. Three recent clashes.

December 5
KIA raid kills Burmese Major, 17 others in Mongkoe

Major attack by KIA 4th Brigade in town on China border.

December 5
KIA weekend road attacks kill three Burmese soldiers north of Myitkyina

Two separate attacks by KIA 2nd Brigade.

December 3
UNFC to form Union Army at last

The prelude to a coordinated armed pro-democracy resistance.

December 3
Deaths and troop build up on Tavoy-Kanchanaburi road

BA force buildup along a development road. Three BA soldiers killed in a KNLA attack. (This is a separate incident from the ambush described on December 2nd.)

December 3
5 Burmese Army soldiers killed in KIA attack

Burma Army convoy attacked in jade mining area.

December 2
KNLA ambush kills three and wounds six Burma Army Soldiers

An attack by the KNLA's 4th Brigade.

December 2
'They Are Fighting Us Like a Foreign Invasion'

Interview with KIA Chief of Staff. 180 clashes in October; 100 in November.

December 2
KIO rejects government's claim about deadly Myitkyina blasts

The regime tries to blame the Kachin for its own crimes.

December 2
Displaced Kachin villagers face health problems

Cold weather leads to suffering and disease for Kachin refugees.

December 2
No UN aid for more than 32,000 refugees trapped on China-Burma Border

The United Nations is ignoring the Kachin refugee crisis.

December 2
Schools closed in fear of more intense fighting

Ten schools closed at the Kachin front.

December 2
Naypyidaw Signs Peace Agreement with SSA-South

A big loss. The SSA-South, which had been a stalwart resistance group, agrees to a ceasefire. The SSA-S, notably, had refused to join the UNFC. It cut its own deal.

December 1
Incident Report: Villager shot and killed in Pa'an District, October 2011

Karen villager killed in Burma Army attack.

December 1
Kachin front field reports posted on Jinghpaw Kasa:

On 30 November 2011 at 730am Burma time Burma soldiers from hka-ma-ya (385) are gathering Irrawaddy river bank. While they are planning to cross over to Da Law village to capture porter, KIA Battalion (11) ambush that killed 4 Burma soldiers and 3 injured. Burma soldiers retaliate fiercely with heavy shelling of mortar targeting the village that killed one villager, 6 villagers injured and Buddhist temple was ruined by the Burma bombardment.

On 30 November 2011 at about 3:30pm Burma time Burma battalion hka-la-ya (141) command by Major Soe Thura with about 100 soldiers and about 50 porter for human shield and to carry supplies and arms for Burma soldier were being ambush attack by KIA Battalion 5 to restrict Burma soldiers intrusion and positioning in KIA control areas. However no casualty was report from both side so far.

Another deadly offensive by Burma army battalion led by Major Awng Myat Soe hka-la-ya(309) with KIA command Battalion 5 under KIA 2nd Brigade at 9am Burma time on 30 November 2011. As usual Burma army suffer large number of soldiers died and casualty. The injured soldiers are being carriage away by bull lock cart must be looting it from the villager as there was no transport or truck at that time to carry injured soldiers to hospital.

In another furious attack by Burma battalion hka-la-ya(142) from Hang Kai continue to shelling with (120mm) against KIA control areas of Hka La and Bum Sawn KIA Command battalion. However there was no casualty report from KIA army side.

On the 1st December 2011 in the village call Sin Lum, Htingra Kawng fierce battle continue between KIA and Burma government soldiers. As usual Burma government army suffer huge losses of soldiers live in this offensive against KIA and Kachin people.

There was another deadly battle between KIA forces and Burma government soldiers at Sin Lum village. The exact number of casualty was not reported from both side.

There was deadly arms clash between KIA forces and Burma army at Manwai and Hpakgyi two different locations, Burma army soldiers 30 and battalion Chief commander (Byu-har-Mu) was killed in these Hpakgyi due to Burma army suffer heavy losses of life the soldiers burn 40 houses in Manwai and 20 houses in Hpagyi villages.

On 30 November 2011 at about 10pm Burma time, Burma soldiers arriving in Nam Hkam and Muse town with five army trucks. Among them 10 injured soldiers from Burma battalions and there was a truck in Hospital in Muse town loaded with two broken motorbike and one deer horn according to eyes witness reported.

Burma government army battalion ka-ma-ya (309) has formed into two infantry and maneuver to Kachin State on 28 November 2011 at 530pm Burma time for to continue major offensive operation against KIA and Kachin people. One of infantry led by Major Aung Myat Soe was stationing around west south four miles from Myo Han village and General Than Myint Tun infantry was station in one mile away from Mang Tang village.

On 28 November 2011 at 520pm Myanmar time 2ac Major Zaw Win Tun Burma army battalion kha-la-ya 141 soldiers arriving in Nam Chyang river which is 92 mile from KIA Battalion Division 5 Prang Hkawn village.

On the same day at 1130am Burma army battalion division hka-ma-ya (317) with 15 trucks loaded with additional soldiers, arms and supplies delivering to near KIA Battalion division 3 Sin Lum village and they have returned back to Nmawk division at 730pm. On the same day at about 330pm Burma soldiers over 300 are maneuvering around KIA division 3 Man Wing town. In Kai Htik village Burma army soldiers 300 have been surrounded and under attack by KIA light infantry 1 soldiers.

Burma regime government is talking and acting to draw attention international community attention only not real intention of national reconciliation reform. Instead Burma army continue fierce attack against KIA and Kachin ethnic and as well as other minorities in Burma.

On 28 November 2011 Burma army soldiers about 300 with 20 trucks loaded with arms and suppliers heading to KIA Battalion 11 Mali Sut Yang. No one know these soldiers are from any of which Burma army division or battalion. However these same soldiers will going over to across the Irrawaddy according to the eye witness reported.

There was deadly clash between KIA light infantry 27 and Burma army hka-ma-ya battalion soldiers on 28 November at 1230 noon in Balawng Dingsa village.

On 28 November 2011, there was bomb explosion at 9am Burma time near bridge No. la-ha (488823) Sin Lum village, Kachin State and two Burma soldiers have killed instantly at the scene.

On 27 November 2011 there was deadly arms clash between KIA battalion infantry 36 under KIA division 4 Shan State with Burma army at 230pm. The number of casualties unknown from both side.

December 1
Government troops burn down more homes in Kachin State

More news on recent BA destruction of Shan villages.

NOVEMBER

November 30
Burmese Army mortars kill woman, injure six

Deadly village attack by Burma Army; new clash with the KIA.

November 30
Bomb blasts kill one, injures one in Myitkyina

Another terrorist bombing by regime agents.

November 30
Kachin IDPs 'suffering food shortage, disease'

Terrible conditions for Kachin refugees.

November 30
Two Shan villages burned down

Over thirty houses burned by Burma Army; two new clashes with the KIA - three BA soldiers killed in one of them.

November 29
Fighting flares in northern Myanmar

Good documentary on the Kachin conflict.

November 29
More and more Kachin IDPs flee to China border

China is blocking Kachin refugees.

November 29
Burma Army random shelling scares villagers and closes schools

Burma Army shelling affects twenty-five Karen villages.

November 28
KIA Battalion 27 overrun by Burmese Army

Kachin withdraw from another base. It is extremely difficult when one side has heavy weapons and the other does not.

November 28
Yellow rain again in Burma's Myitkyina

Renewed unusual phenomenon - evidence of chemical weapons?

November 28
CRIMES IN NORTHERN BURMA: RESULTS FROM A FACT-FINDING MISSION TO KACHIN STATE

Major report, with photos, of regime war crimes.

November 28
Residents extorted by armed group

Conflict breeds social disorder.

November 27
81 Women Raped, 36 Killed by Burma Army Soldiers: WLB

The NLD is rewarding rapists.

November 27
Burmese Army's battalion commander committed suicide

Well done KIA. The best way to defeat the enemy is to have them kill themselves!

November 27
This is our land! Villagers pay the price of land confiscation

Large-scale theft of land for regime bases in Shan State.

November 27
FBR REPORT: Chin State Suffering from Rampant Burma Army Forced Labor

Even though there is less conflict, it is far from peaceful in Eastern Burma.

November 25
KNU ceasefire statement

Contrary to a number of media reports, the KNU has not reached a ceasefire agreement with the Tatmadaw.

November 25
KNU January to October Battle Summary

The KNLA has killed almost 1,000 regime soldiers this year.

November 25
'Yellow rain' fuels chemical weapons fears

Good overview of the Burma Army's use of chemical weapons.

November 25
Fighting intensifies in Kachinland

Overview of the recent conflict at the Kachin front. About 120 BA soldiers were killed and another 200 wounded in the fighting near Laiza.

November 25
Four Burmese government planes flying over Sinlum Kaba

The regime is starting to use its jets. Another major offensive is expected.

November 25
One Kachin villager killed and four still being detained

One of the recently arrested Kachin villagers was tortured to death.

November 25
Rising Number of Refugees Strains Relief Efforts

Kachin refugees rise to 40,000.

November 24
Over 30 Burmese soldiers killed in clashes with KIA

Clashes in three different areas south of Bhamo. Total BA casualties are unknown.

November 23
Burmese Army dispatches reinforcements to Kachin State

The NLD deciding to reregister gave the Tatmadaw a green light to attack the Kachin.

November 23
Burmese Army uses twin explosive devices with chemical gas

Evidence that the Burma Army is using two different types of chemical weapons.

November 23
2 Villagers Killed and 1 Rebel Wounded in Ambush After Kidnapping

Burma Army kills two Mon villagers.

November 23
What election? For the Burma Army it's business as usual

No reduction in regime abuses of Karen villagers.

November 22
Is the attack in Myitkyina a sign of worsening conflict?

Analysis of the regime attack in Myitkyina, which left fourteen dead, and which analysis reaches the conclusion that the Burma Army is now purposely conducting a campaign of ethnic cleansing against the Kachin people.

November 22
Burmese Army is committing horrendous rights violations

Numerous cases of Kachin villagers being arrested and tortured by the regime.

November 22
Escaped porter claims 37 Burmese soldiers killed in N'Tap Bum

High BA casualties in recent battle.

November 22
Latest KNG War News

Many more clashes in last two days, Three BA soldiers killed in one of them.

November 22
Homemade Burmese bomb damages USDP office in Irrawaddy Region

Bomb attack against regime office.

November 21
SHAN news release:
New Shan front clash.

The meeting between Naypyitaw representatives on the Thai-Burma border for peace talks, on 19 November coincided with a clash in Mongyu-Mongyawng area on the same day. The half-hour encounter, 06:00-06:30, between the SSA's 108th Battalion and IB 334 column led by Capt Myint Kyaw Naing, ended with the retreating SSA in possession of a G-3 automatic rifle, says the SSA's eastern region commander Lt-Col Gawn Zeun. The Burma Army, he adds, has also been in a campaign to push out the SSA from Kengtung township.

November 21
KIO condemns bombings in Kachin State

More clashes. Material sent for tests to confirm BA use of chemical weapons.

November 21
Yellow rain in KIO's Mai Ja Yang in Northern Burma

More evidence of the regime's use of chemical weapons?

November 21
Burmese Army detains Baptist pastor, seven Kachin villagers in Nam Hkam

Eight Kachin arrested, now being tortured.

November 21
Several thousand more Kachin IDPs flee to China border

Refugee crisis worsens.

November 21
Troops take frontline Kachin base

Burma Army now making extensive use of heavy weapons.

November 20
SSA South reaches ceasefire agreement with Naypyitaw

Bad news. It seems the reunification of the SSA-North and the SSA-South wasn't for real. The SSA-S has struck a ceasefire deal with the regime.

November 20
KIA expelled Burmese Army from Ntap Bum

Confirmation of the KIA victory near Laiza.

November 18
Myitkyina police forced Mr. Dingyau Tang Gun to confess

Regime tortures the owner of the home that they bombed.

November 18
Chin Villagers Forced as Porters by Army Soldiers

Forced porters in western Burma.

November 17
A local Kachin Baptist pastor arrested

Burma Army arrest.

November 17
Why we struggle: Chin National Front

CNF completes military training exercise.

November 17
KIA pushes back Burmese Army troops from Laiza headquarters

Significant victory at the Kachin front!!

November 17
FBR REPORT: Kachin State- Burma Army Burns and Loots Homes in Wai Maw District

Photos of Burma Army destruction of Kachin village.

November 16
KIA withdraws from Kambaiti Road stronghold

Another major battle is underway.

November 16
Six Burmese Army soldiers killed on Irrawaddy Bridge

KIA attacks BA at Myitkyina bridge.

November 16
1,000 Kachins Flee to IDP Camps

Many more Kachin refugees in the last few days, fleeing BA attacks and human rights abuses.

November 16
Thai women released by breakaway armed group

Regime allied ethnic militia kidnaps for ransom.

November 14
Bomb explosion kills Kachin students in Myitkyina

Bomb targets a Kachin residence, and ten people are killed. Since the KIO certainly would not attack the Kachin people, this means that the military regime must be responsible. Cowardly murderers!

November 14
Burmese Army soldiers wounded by their own chemical weapons

Report that a BA chemical weapon mortar detonated prematurely and injured some 90 Tatmadaw soldiers.

November 14
SHAN news release:
Five BA soldiers killed in Kachin front clash yesterday.

Kachin Independence Army (KIA) yesterday morning attacked a cave post of the Burma Army, in Manwiang, bordering Shan State's Namkham township, killing 5 and wounding 3. One of the fatal casualties is said to be a major. The cave had been dug in the side of the Loi Ho Serh (Tiger Head Mountain).

November 14
Sino border town under curfew

Regime imposes a curfew following an explosion at a police station.

November 11
China sends two weapon-laden trucks to Burma border

China openly arming the Tatmadaw.

November 11
KIA soldiers wear cloth masks for protection against poison gas

BA chemical weapons have red and white smoke.

November 11
A dozen Burmese Army soldiers killed in Northern Shan State

More than 12 confirmed BA dead in KIA 4th Brigade clashes.

November 11
Police officer killed in Nam Hkam mine explosion

Explosion at a regime police station in Northern Shan State.

November 11
KIA destroys Burma Army weapons train to Kachin State

Burma Army five car weapons train blown up.

November 11
Three KIA soldiers unconscious after poison gas attack

New Burma Army attack against the Kachin using chemical weapons. Over 50 BA soldiers have died in recent clashes.

November 11
Burmese Army fires chemical agent-filled artillery shells against KIA's 3rd Brigade

More information on the chemical weapon attack.

November 11
Troops raze Kachin villages, locals flee

Burma Army soldiers burn fifty homes.

November 11
Kachin Rebels Blow Up Major Railway

The KIA works to prevent Burma Army resupply.

November 11
KNU Appoints Delegation for Peace Talks

Karen Resistance has an emergency meeting.

November 10
SHAN news release.

Burma Army reinforcements to Kachin State.

Troops from Magwe-based Light Infantry Division #88 that arrived in Bhamo on 4 November has been engaging the Kachin Independence Army (KIA) in Moemawk township. The Burma Army sends more reinforcements by trucks from Lashio through Muse and Namkham to the Kachin State today.

November 10
Naypyidaw Sends More Troops to Tavoy Road Site

Regime reinforcing its troops in advance of the expected offensive against the Karen.

November 10
Burma Army arrest health workers

Regime detains two Karen Backpack medics.

November 10
Heavy battles raging on Waing Maw-Kampaiti road as Burmese Army prepares for a major offense


Multiple battles underway. Burma Army soldiers take revenge for battle losses on Kachin villagers.

November 10
Burmese Army soldiers enter Kampaiti through Chinese territory


Regime using Chinese territory to attack the Kachin.

November 9
Church Looted, Worshippers Forced as Porters in Kachin State

Religious persecution, theft and forced labor by BA soldiers.

November 9
KIO leader's orange orchard burnt down by Burmese Army

Troops from over 100 BA battalions now at the Kachin front.

November 8
Burmese Army-KIA clash for seven hours near Man Win

Major battle at Bhamo front.

November 8
Burmese Army moves 120mm mortars closer to KIA key positions

Regime using heavy weapons again, new civilian crisis likely.

November 8
Top official: Than Shwe still holds the reins

The idea that there is reform in Burma is a joke. Than Shwe is still the dictator. Thein Sein has no real power at all. Than Shwe could have him imprisoned, or even executed, at any time.

November 8
Burma Army prepares for war

This year's dry season offensive against the Karen people may be horrendous. Does anyone in the international community, or Rangoon, care?

November 8
Armed group razes workers' barracks after not receiving extortion money


Regime-owned plantation is attacked.

November 7
Seven Burmese Army soldiers killed on Kachin-Shan border

The Kachin front conflict rages on.

November 7
KIO's power supply lines to Myitkyina destroyed by Burmese Army

More information about the regime denying electricity to Myitkyina.

November 7
Kachin church razed, pastor detained by Burmese Army

BA destroys a Kachin church, four villagers also arrested.

November 7
A bomb destroys a cargo boat on the Salween River

Ship used to transport regime troops in destroyed.

November 7
When Unarmed Women Are in the Hands of Armed Men

Burma's noble Tatmadaw, an army of rapists!

November 7
WLB launches a short film "Bringing Justice to Women" demanding the accountability of Burma's military for war crimes and crimes against humanity

New film by the Women's League of Burma about the regime's sexual violence.

November 6
Burma Army bomb civilians out of their village

Burma Army shells Karen village, forcing villagers to flee, then enters the village and steals their belongings.

November 6
Villagers fear army will force land takeover

Burma Army plans to steal Karen villager land for new camp.

November 4
Three teenaged Chinese girls raped and killed by Burmese soldiers

Burma Army soldiers are on a rampage.

November 4
The Burma Army must immediately release four women held as sex slaves near Kachin-China border

Burma Army committing unspeakable atrocities.

November 4
KIO power cable serving Myitkyina cut since Tuesday

Regime cuts power to major Kachin city.

November 4
Checkpoint to SSA controlled area reopened

Regime, for the moment at least, gives up in its attempt to take the SSA Wanhai HQ.

November 4
Karen rebels, govt agree ceasefire

The DKBA may be turning their backs on the Karen people again. One wonders how much they were bribed.

November 3
KIA kills 16 Burmese Army soldiers in Ga Ra Yang

Two more large clashes.

November 3
Kachin woman abducted and gang-raped by Burmese troops

Inhuman brutality by Burma Army soldiers. Rape victim still not released.

November 3
Villager executed in Papun District


Karen villager murdered by Burma Army soldiers.

November 2
Burmese Army-KIA clash twice in N. Shan State

Clashes along the Chinese border in Northern Shan State.

November 2
KIA ambush kills three Burmese soldiers in Sinlum

KIA ambush at the northern Kachin front.

November 1
KIA kills 10 Burmese soldiers in North Burma

Three hour battle in Northern Kachin State.

November 1
Burmese fighter planes fly over near KIA headquarters

Burma Army show of force.

November 1
Burmese Army attacks KIA with poison gas

More on the chemical weapon attack.

November 1
SHAN news release.

Clash takes place before talks

A 20 minute long shootout took place on 28 October, 15:30-15:50, between the SSA's 801st Battalion and the Burma Army's Mongnawng-based IB 286 in Tuya, Kehsi township. SSA fighters came out unscathed. No casualties known on the Burma Army's side. SSA delegates met regime negotiators in Naypyitaw on 29 October.

November 1
Forced Labour, Extortion Persist in Chin State

Burma Army abuses in Western Burma.

OCTOBER

October 30
Burma Army using chemical weapons against the Kachin, by the Kachin News Group

The real face of the military regime, not the sweet talk from Naypyidaw and which many people are only too happy to hear.

October 29
Burma Army target Kachin women for forced labor

Burma Army terrorizing Kachin villagers.

October 28
Attempted rape by IB No. 31 Captain on 12 year old school girl

Another Burma Army rape atrocity.

October 28
23 govt soldiers killed by KIA during fighting in three areas

Three different battles underway at the Kachin front.

October 28
Burmese army extend area at Tavoy-Kanchanaburi highway


Burma Army reinforcing units along a major road construction project to Tavoy. The KNU is currently preventing the construction.

October 27
9 Burmese soldiers killed on Myitkyina-Sumprabum Road

Large battle in northern Kachin State.

October 27
FBR REPORT: Photo Essay- Burma Army Uses Civilians as Shields in Karen State

Burma Army uses children as human shields.

October 26
Chinese police exercise with riot shields on Burma border

PLA openly assisting the Burma Army against the KIA. There are now 6,000 PLA troops at the border.

October 26
Four Burmese soldiers killed in fighting on Loije-Bhamo Road

First report from yesterday's battle at the Kachin front.

October 26
Fighting halted in northern Shan State

The northern SSA front is quiet. The Burma Army failed to take the SSA's Wanhai HQ.

October 26
Burma Army fomenting another war between Wa, Shans?

The BA is trying to create trouble between the SSA-South and the UWSA.

October 26
Burma Army shells from Thai side of the border to attack Karen fighters

Burma Army and Karen BGF use Thai territory to attack the Karen resistance. This is similar to what is happening at the Kachin front, where BA soldiers are now on Chinese soil. China and Thailand are backing Burma's regime in the country's civil war!

October 25
KNLA September battle summary

Seventy-one clashes; Fifty-four known Burma Army KIA casualties.

October 25
Burma Army-KIA involved in heavy fighting at Du Ra Kawng

Major battle underway at the Chinese border.

October 25
Pregnant teacher hospitalized after Burmese soldier fired on her

Another war crime.

October 24
Kidnappers demand one million kyat for each abductee's freedom

Ransom set for road construction workers.

October 23
Burma Army soldiers gang-raped and killed 9 Chinese women

U.S. Special Representative Mitchell, now in Burma, should be demanding an end to this!

October 23
Burma Army sends reinforcements to secure Tavoy-Kanchanaburi road construction

Burma Army launching offensive against KNU on behalf of Thai construction company.

October 22
China transports Burmese troops inside its border to fight KIA

Important: Chinese military trucks are transporting Burma Army soldiers through China to attack the Kachin Independence Army from behind.

Chinese help for North Korea during the Korean War is the reason why the Korean peninsula is not now unified, and why the Stalinists in the North are threatening the world with atomic weapons. Now, China is starting to give the same type of help to Burma's generals.

October 21
Four abducted in southern Mon State

Burma Army contractors kidnapped, truck burned.

October 21
More government troops deployed around Laiza

Review of Burma Army activity near KIA HQ.

October 21
Kachin conflict worsens, civilians trapped

Review of the major surge in fighting at the Kachin front in the last three days.

October 21
Teenage Kachin girl raped and killed by Burmese soldiers

How many women in Burma have to be raped by BA soldiers before the International Community will finally act? The West is disgusting, that it absolutely refuses to help in any significant way.

October 21
Innocent Shan civilian killed by Burmese soldiers

The Burma Army is committing many different war crimes every single day.

October 21
Three Burma Army officers killed at Ga Ra Yang

Five new Burma Army killed in action casualties. Because of the regime's barbarity, the resistance armies are fully justified in killing every BA soldier that they can. It is rapidly becoming the case that the only possible solution for the country, as in Libya, will be military.

October 21
DKBA kill six Burma Army Soldiers

New action at the Karen front.

October 20
KIO calls for reunification with Kachin militias

Kachin traitors need to return to the Kachin mother organization.

October 20
Kachin villagers shot by Burma Army

The war crimes keep mounting. BA murders two Kachin villagers.

October 20
Elderly Kachin man shot by govt troops

Yet another regime war crime.

October 20
Fears for Arrested Karenni Villagers

Karenni villagers arrested. Also report of a Burma Army attack on Karenni medics.

October 19
KIA destroys two Burma govt weapon transport ships

Important action by the KIA to disrupt the Burma Army's weapon supply. Many BA casualties.

October 19
Christian pastor arrested by Burmese government Light Infantry unit

Kachin village burned by the Burma Army. Villagers now refugees in Laiza.

October 19
Burma soldiers and police beat boy

Burma Army torture a boy tending cows in Northern Shan State.

October 18
Over 2,000 Chinese troops arrive at Burma border

China continues to block refugees. Will the PLA expand its role and actively assist the Burma Army to defeat the Kachin?

October 18
Three Burmese soldiers killed in morning fighting

A new clash at the Kachin front.

October 18
Kachin baby shot dead by govt troops

Burma Army murders an infant and burns down the family's home.

October 18
Peace talks fuel fighting

Report of three new clashes at the Karen front.

October 17
Burmese Army Mounts Multi-front Offensive Against KIA

This is the real situation in Burma. The Army is extremely aggressive. It want's nothing to do with peace. Thein Sein is just a useful idiot, put on stage to give regime cronies and international opportunists an excuse to spread propaganda.

October 17
Over 50 govt soldiers killed on Sunday

Keep fighting, Kachin Independence Army!!!

October 17
Burma Army detains 20 Myitkyina residents as porters

BA using Kachin forced labor in its war against the Kachin people.

October 17
Arakanese join Karen rebel ambush

A good example of cooperation between the ethnic resistance groups.

October 17
Burma Army's militia demands rice from villages

More BA extortion and theft.

October 17
India and Burma argue over border insurgent issues

Update on the situation in Northeast Burma.

October 14
KIA attack near Myitkyina kills over a dozen Burmese soldiers

The war at the Kachin front is raging, with the KIA scoring a number of real victories over the Burma Army.

October 14
BGF stealing and selling village farmland

Statement that as many as 1,500 Karen BGF soldiers have defected to reform the DKBA and cooperate with the KNLA.

October 14
KIA attack near Myitkyina kills over a dozen Burmese soldiers

Major battles at the Kachin front. The Burma Army continues to suffer a large number of casualties every day.

October 14
KIA-Burma Army battle on the Myitkyina-Bhamo Road

Burma Army convoy attacked. High BA casualties but exact amount unknown.

October 13
SHAN news release:
KIA attacks Burma Army ethnic militia outpost.

An outpost manned by Panhsay People's Militia Force (PMF) 12 miles outside Namkham attacked by Kachin Independence Army (KIA) yesterday. 5 wounded, 1 seriously, on PMF side. Panhsay is notorious for its involvement in the drug business.

October 12
KIA kills 10 Burmese soldiers, injures 2 in southern Kachin State

Many new clashes in southern Kachin State. Casualties from some not yet known.

October 12
KIA captures important frontline government post

Good news at the Kachin front.

October 12
Four Burma govt soldiers killed in fighting with KIA

Another clash near Bhamo.

October 11
Rights abuses persist in ethnic states despite international perception

Recent Burma Army abuses in Shan State.

October 11
Mekong killings: SSA wants to help

A new drug lord has taken control of the Golden Triangle.

October 10
Govt troops shell Kachin village, kill student

Attacks by Burma Army against Kachin villagers continue.

October 10
Burma govt troops gang-rape three Chinese women

More rapes by Burma Army soldiers in Kachin State.

October 10
Militia bomb village to avoid frontline duty

Regime militia attacks village in Shan State.

October10
Burma Army using Karen villagers as 'shields'

More cases of BA troops using human shields.

October 9
Karen fighters kill 10 Burma Army soldiers

The Karen resistance is increasing its operations. When the rains end a major escalation is likely.

October 7
KWAT condemns international community's wait and see approach to problems in Burma

The Kachin Women's Association Thailand (KWAT) denounces the lack of international intervention to end Burma Army abuses against the Kachin people..

October 7
Burma's Cover up War: Atrocities Against The Kachin People

Full KWAT report.

October 6
Fighting erupts between gov't, KNLA near Three Pagoda Pass

New clashes at the Karen front.

October 6
Two powerful bombs explode in Burma's northern city

Two railway bridges destroyed in Myitkyina.

October 6
Two Burma Army soldiers killed, one injured in Mongkoe

More KIA attacks in Northern Shan State.

October 6
KIA ambushes Burma Army's column in Mongkoe

New KIA ambush in Northern Shan State.

October 6
One government soldier killed, three injured in S. Kachin State

More about the clash on October 4th.

October 5
40 Burma Army soldiers killed in one day in Kachin State

Kachin front fighting shifts from Northern Shan State to Kachin State proper.

October 5
Army puts ransom on Kachin porters

Local villagers kidnapped by the Burma Army.

October 4
SHAN news release:
New clash, two Burma Army KIA casualties

Shan State Army (SSA) reports today that a surprise encounter took place between a 3 men patrol from its 36th Brigade and a column from Infantry Battalion 128 on the road between Mongkao and Ta Mansom Salween crossing in Tangyan township, 30 September. Two killed and one wounded on the Burma Army side.

October 4
China said to be arming Indian rebels

China is playing a very complex game in Burma, including both siding with the regime and with groups that oppose it (such as the Wa and Mongla and rebels in the Northeast).

October 4
KIA-Burma Army battle for 3-hours in S. Kachin State

Another significant battle at the Kachin front. Casualties are unknown. Burma Army soldiers used Kachin students as human shields.

October 3
FBR REPORT: Seven-year-old child killed, a mother and other villagers wounded in ongoing Burma Army attacks in Karen State

Burma Army kills a Karen child.

October 3
BGF steal land and mine homes

Regime affiliated Karen BGF preying on a village.

SEPTEMBER

September 30
Seven suspects arrested in connection with kidnappers' group

More confusion in the conflict in the Three Pagodas Pass area.

September 30
Karen fighters kill four Burma Army soldiers and torch bus

Karen resistance forces attack a Burma Army camp. News from the Karen front is sporadic, but regular conflict is continuing. The Karen fighters are under orders to counter Burma Army operations, and also to sabotage the businesses of regime cronies.

September 30
4 Burmese soldiers killed, 5 injured in KIA attack

The KIA is now fighting in five different areas in Northern Shan State.

September 30
Burma military intelligence agent killed by KIA

KIA attack on Burma Army military intelligence office.

September 30
130 more Kachin IDPs arrive at China border in a single day

There are now 16,000 IDPs in KIA run internal refugee camps.

September 29
Over 150 govt. soldiers killed in war in Shan State

Update on the status of the Burma Army's offensive in Northern Shan State.

September 29
IDPs from over 30 villages in NE Burma have not reached safety

More than thirty villages in the KIA Brigade 4 area are now deserted, with the villagers in hiding and short on food and supplies.

September 29
Burmese Army Commits Massacre in Shan State

BA soldiers on a rampage; eight villagers murdered.

September 29
Opposition study: Shan State has the most infantry battalions

Analysis of Burma Army units in Shan State. "most of the battalions are woefully understrength, undernourished and underprepared. "Its main strength lies in heavy weapons," said a border watcher. "If it weren't for them, the Burma Army wouldn't have been able to take the [Kachin Independence Army's] 4th Brigade base (at Loikang, Shan State North on 27 September) with such relative ease.""

September 28
Kachin Rebels Lose Major Stronghold as Govt Army Advances

KIA yields its Northern Shan State Brigade HQ. Intense and widespread conflict is underway, involving thousands of soldiers. There have been no good, detailed status reports so far.

September 28
SHAN news release:
SSA fighting alongside with KIA

The Shan State Army (SSA) North fighters are fighting alongside the KIA 8th Battalion against Burma Army forces in Mantong township. It has already lost 4 fighters resisting the offensive in Muse and Kutkhai. Both are members of the United Nationalities Federal Council (UNFC), formed in February.

September 28
Chinese authorities guard Burma border to stop IDPs

China refusing safe haven to refugees. All official and unofficial border crossings are blocked.

September 28
Mongpaw Kachin church receives 109 IDPs

One group of refugees finds sanctuary in a church.

September 28
Burmese Army Kills Two Civilians in Raid

Burma Army kills villagers in Mon/Karen area.

September 27
Burma Army takes control KIA's Brigade 4

KIA forced to retreat from Northern Shan State bases in the face of sustained heavy artillery. The KIA needs to launch major offensive guerrilla operations.

September 27
Over 20,000 IDPs in NE Burma flee to safety

Large new refugee crisis underway.

September 27
Protracted shelling unnerves Kachin army

KIA withdraws from two bases in response to heavy artillery.

September 27
Thousands Flee as Kachin Fighting Escalates

As many as 20,000 new refugees from the Burma Army's offensive at the Kachin front. The affected area has two hundred villages and a total population of over 200,000.

September 27
Burmese government troops scouring Shan State for SSA-N guerrillas

Burma Army terrorizing Shan villagers. New clash with SSA results in seven BA WIA casualties.

September 26
Four Days of Heavy Fighting in Northern Burma

The fighting at the Kachin front is escalating into open warfare, fought by the Tatmadaw for the benefit of China.

September 26
Burmese government offensive prevents halt to fighting: KIO

Report that in the last few days at least one hundred BA soldiers have been killed.

September 26
First KIA military base in N. Shan State falls

The KIA abandons a base if the face of a heavy artillery barrage.

September 26
Three KIO members shot at Lajayang Gate

Three KIO members, not soldiers, murdered at a BA checkpoint.

September 26
Burma Army shoots down KNLA peace moves

The Burma Army mortars one KNLA base and attacks another. In the second attack one BA soldier was killed.

September 24
Burma Army plans to capture KIA's Brigade 4 in three days

Sixteen hours straight fighting on the first day of the new offensive. Many BA soldiers killed.

September 24
Burma Army launches storm-offensive to KIA

The Burma Army has launched a major offensive against the Kachin Independence Army, seemingly for control of a new pipeline route to China. Conflict is underway at at least five different locations. Many refugees are fleeing the offensive, but are being blocked from entering China, by the PLA.

September 23
SSA news release.

The Shan State Army North has revealed that in the fighting from March through August, total casualties were as follows:

BA KIA: 537
BA WIA: 649
SSA KIA: 33
SSA WIA: 44

The SSA continues to control its Wanhai headquarters.

September 23
SSPP/SSA wishes to have peace with regime

All the ethnic resistance forces would prefer to have a genuine peace than to fight. But the Tatmadaw refuses to offer a real peace agreement, much less democracy. Also, new clashes are underway at the Shan front. In one of them, one BA soldier was killed.

September 23
KIA-Burma Army continue fighting in N.Shan State

New clashes underway.

September 23
KIA rejects request to withdraw Kambaiti post

The KIA reports that since the conflict at the Kachin front began, more than 600 Burma Army soldiers have been killed.

September 22
Burma Army mine injures local Kachins

It's not until you work on a cause like Burma that you realize how many different types of war crimes there are.

September 22
KIA frees 52 prisoners from government labor camp

KIA ends a regime abuse. Note: The military regime also regularly uses prisoners as forced porters for Burma Army units.

September 21
KIA bans cement imports from China

China can't build the Myitsone dam without cement! Also, the KNG's Kachin language service is reporting ongoing clashes at six different locations.

September 21
Shan monks used as human shields

At the Shan front the Burma Army is using Buddhist monks as human shields. At the Karen front, it is using women and children. Is there no limit to the Tatmadaw's barbarity?

September 20
August update on situation in Karen State.

Analysis by the KNU.

September 20
KIA Warned Not to Block Myitsone Trucks

The Burma Army is fighting the people of country on orders of the dictators of China.

September 20
Dawei Project Hits a Roadblock, as KNU Bans Ital-Thai Vehicles

The parallels are clear. The KNU and KIA are fighting to help the people of Burma and to protect its natural ecology. The military regime continues its scorched earth destruction.

September 19
Burmese government troops arrest 12 Kachin villagers

The military regime regularly arrests villagers by accusing them of having links to the pro-democracy resistance. In many cases the villagers are then executed.

September 18
Seven Burmese soldiers killed, two injured in Mongkoe

Another battle at the Kachin front, this time in the area of operations in Northern Shan State. (The Kachin front encompasses clashes in Kachin State and also, as here, just to the south in Northern Shan State.)

September 18
Fighting Continues in Kachin State

This story includes a report of small clashes at the Shan front and news that the Burma Army has seized thirty-five Shan villagers for use as human shields.

September 18
Army Soldiers Threatened, Forced Chin Locals to Sign

Although reports of fighting in Western Burma are rare, the regime is obviously worried that open conflict will spread to this region.

September 17
Army rations destroyed on Thai Burma road

KNLA destroys truck carrying Burma Army rations. BA protecting Thai road construction for new deep sea port, which development will displace 30,000 Karen villagers.

September 17
KNU tightens construction ban on Tavoy to Kanchanaburi Road

KNU bans Italian-Thai Development Company trucks from the road leading to the Tavoy development project (site of above mentioned deep sea port).

September 16
40 Burmese soldiers killed in fighting with KIA

As anticipated, major conflict has resumed at the Kachin front.

September 16
Ethnic leaders welcome U.S. envoy's call to investigate abuses

There can be no peace in Burma if the regime is not held accountable for its crimes against humanity.

September 1
KNU to Observe One-Day Ceasefire on International Day of Peace

The KNU demonstrates that it wants peace, and calls on the military regime to end its offensives and to withdraw its troops.

September 15
Security Tightened in Pruso since the Establishment of a Military Training Ground

Burma Army building major training base in Karenni State.

September 15
Two Burmese soldiers killed at Manje

Two new clashes at the Kachin front. Two BA soldiers were killed in one; The casualties are unknown for the other.

September 15
KNU accuses government of dirty, drug running plot

More regime propaganda. The military junta and its remaining Karen BGF allies are the drug traffickers; The KNU fights their trade.

September 14
Shan villagers beaten by troops: reports

Burma Army abuses villagers as retaliation for two new clashes with the SSA that left a total of four BA killed in action casualties.

September 13
DKBA attack Burma Army Tax Gates

DKBA renews operations.

September 13
Burmese army post burnt down by KIA

KIA destroys regime extortion checkpoint.

September 13
Burmese soldiers injured in KIA mine explosion

New KIA - Burma Army clash.

September 13
KIO blocks construction material for Myitsone Dam project

The regime announced yesterday that even in the face of massive opposition it would continue building the dam. The KIO says, not so fast.

September 12
DKBA reform

DKBA restructuring. Cooperating with the KNLA. May become separate special operations troops under the KNU.

September 9
Wa, Mongla sign new ceasefire agreement

Both good and bad news. It's a good sign that the regime has given up its attempts to pressure the Wa and Mongla. The generals have accepted that they cannot bring them under their control. It's bad, though, that the Wa and Mongla are being used in Naypyidaw's divide and conquer strategy. It would have been much better if they would back the KIA and SSA. Still, what do you expect from one of the world's leading gang of drug dealers, the Wa leadership, and who are buddies with the Chinese communists. When Burma is free, the Wa situation will be one of its greatest challenges.

September 9
KIA and Burmese troops clash at Hkringmu Dan

With the Wa issue settled, at least for the time being, the regime is now free to focus on the KIA.

September 9
200 Burmese troops secretly approach the KIA Laiza headquarters

The military regime is adopting a very aggressive posture. Major conflict is possible in the next few days.

September 9
BGF lose 30 more fighters to DKBA

Good news at the Karen front. More Karen BGF soldiers defect to the resistance.

September 9
Burmese Army goes offensive against Indian Militants

New conflict in Northwest Burma, as the military regime repays India for its support.

September 8
Nearly 30 Burmese soldiers killed in six days in Kachin State

September starts with a major upsurge in conflict at the Kachin front.

September 8
Toys for the boys in Myanmar

Excellent article about how the military regime has built many new factories to make its own weapons, including a ballistic missile factory that reportedly has on-site experts from North Korea, China and Russia.

September 8
DKBA to Accelerate Military Tactics

DKBA element of the Karen resistance reorganizes to prepare for increased conflict with the military regime.

September 7
Burma army still using child soldiers

BA continues to press-gang children.

September 7
KNLA Situation Report

Clashes involving the KNLA and the Burma Army, and BA abuses against Karen villagers, for the period July 24 - September 1


September 7
Burma Army shell village, kill cattle

Burma Army attacks Karen village in retaliation for renewed fighting in recent days with the Karen resistance. At least one BA soldier killed in these clashes.

September 7
Eight Burmese soldiers killed, three injured in fighting with the KIA

New fighting at three different areas at the Kachin front. Eight BA killed in action casualties.

September 6
Burmese government launches psychological warfare against KIA

Also see next item: Military regime launches psyops campaign against the ethnic resistance.

September 6
Contrary to report, DKBA remains active and strong

DKBA counters regime propaganda that it is no longer exists. The DKBA is actively cooperating with the KNLA, including in the new clashes described under the August 7 "Burma Army shell village, kill cattle" item.

September 4
Report on Burma Army use of chemical weapons

Report about suspected chemical weapons attack against SSA on June 3rd.


September 4
Govt Army Accused of Planting Landmines around Kachin Church

First chemical weapons, then mining churches, not to mention raping women and forcing children to act as shields: Is there no atrocity that the Burma Army will not commit!?

September 4
WikiLeaks Cables Show China's Support for UWSA

Important: The United Wa State Army has surface to air missiles, and the direct backing of China. This means, among other things, that the Tatmadaw will be unlikely to attack, but also that the Wa will not support the other ethnic resistance groups (because of China's opposition).

September 3
Burma government puts up posters to disparage KIA leader

Regime propaganda says - falsely - that a leading KIA general has died.

September 2
Burmese Army controls KIA's Lungja hillside

KIA loses an important position.

September 2
SHAN news release:
New report of prisoners being forced to porter for the Burma Army.

A Shan convict who recently escaped from the Shan State war zone said he and other fellow convicts were forced to wear military uniforms, carry weapons and serve as advance guard for the main troops. The soldiers in his unit were also issued meager rations made up of 1 condensed milk can and 3 canful of rice. Some days all of them except the officers went without food.

September 2
Burma's Armed Resistance Needs International Support

Good overview of the justification for armed resistance in Burma and the need for international assistance.

September 2
Kachin IDPs reach over 40,000 due to civil war in Northern Burma

Increase in the scale of the humanitarian crisis in Northern Burma.

September 2
Civilian cars moved away from the war zone in Northern Burma

Kachin people hiding their cars to avoid confiscation and use by the Burma Army.

September 2
Crimes against the Karen must end

Strong condemnation of the United Nations and the International Community for ignoring the regime's crimes against humanity against the Karen people.

September 2
BGF forced 9 villages to relocate to Myaing Gyi Ngu

Regime's BGF allies attacking Karen villages.

September 1
Husbands at the front, women guard rear bases

Burma Army officers and soldiers committing suicide rather than fight; Shan front bases unguarded at night. (If the resistance groups could take these bases, they could seize huge quantities of arms and supplies!)

September 1
Russian MIG 29 Jet used as a threat against SSA-N to protect Russia Investments

War against the SSA launched by the military regime in part to protect Russian investments!

September 1
Civil War in Northern Burma

Description of more clashes in the last few days at the Kachin front.

AUGUST

August 31
SHAN news release:
Four Burma Army KIA in SSA clash

Shan State Army (SSA) spokesman Maj Sai La says during the fight near Hinlai dam, Wanphwi tract, Kehsi township, 14-16 August, the Burma Army's Hopang-based Infantry Battalion 143 had suffered 4 killed: Captain Thet Naing Win, Sgt Win Nyunt, Cpl Maung Myint and Pvt Kyaw Thu Oo. SHAN had earlier reported that the commissioned officer killed was Maj Tin Myo Htoo. Actually he was among the wounded. He and 11 others were hauled by an army helicopter from Kehsi earlier this week.

August 31
China Hands KNU Leader over to Burma

China sent more military supplies and trucks to Burma's regime last week. Now it is deporting resistance leaders, to certain imprisonment and torture.

August 31
Villagers killed in Burma Army attack

BA conducts search and kill missions at the Karen front. Two villagers murdered.

August 31
Three Burmese Army soldiers killed in Dawhpum Yang

Upsurge in fighting at the Kachin front. See the next two items.

August 31
Seven Burma Army soldiers killed in fighting with KIA at Lungja hillside

Heavy fighting in Bhamo township.

August 31
Burma Army friendly fire kills 3, injures 4 on Mandalay-Muse trade route

The easiest way to defeat the military regime: Tatmadaw troops fight themselves!

August 30
Truce Talks with Local Govts Unacceptable: UNFC

The ethnic armed alliance, the UNFC, calls the regime's proposal for local level ceasefire talks a dishonest ploy. The UNFC understands that the regime is not sincere, and that it is on the defensive and trying to buy time.

August 30
Burmese expanding in Kachin state

The Burma Army is reinforcing its troops at the Kachin front. Another clash, from August 28, is reported.

August 29
SHAN news release:
Ambush by SSA against Burma Army. BA casualties unknown.

A joint patrol made up of soldiers from Light Infantry Battalions (LIBs) 17 and 505 ambushed by a 19-men Shan State Army patrol at Napieng village, Namawng tract, Hsipaw township, 09:40-09:55. The Burmese patrol suffered casualties, details unknown. The SSA got away unscathed.


August 29
Gunmen Fire on Police Station in Mon State

An attack on regime police. Also describes a new ambush by the KIA at the Kachin front, against a convoy of military trucks for the regime supplied by China

August 29
SSA-DKBA met in strategic summit

Breakaway DKBA, which is already cooperating with the KNU, agrees to work with the SSA.

August 26
Burmese military agents plant a powerful bomb in Kachin quarter

Regime agents caught planting terrorist bomb in Myitkyina.

August 25
Two Burmese soldiers killed, four injured in KIA ambush

Continued fighting, now that the regime's ridiculous ceasefire offer has been denounced.

August 25
Deadly Clashes Continue in Northern Burma

Current status of Kachin conflict and description of recent clashes.

August 24
SHAN news release.

Shan village burned by Burma Army as retaliation for clashes with the SSA that leave 4-7 BA soldiers killed.

Napeun, a village of 6 households, in Wan Phwi tract, some 7 miles northeast of Kehsi, the seat of Kehsi township, was burned down by the Burma Army yesterday morning, according to different sources. It was in retaliation against the heavy casualties suffered by the Burma Army during a three day fight at the nearby Hin Lai dam, 14-16 August, 4-7 killed and more than 20 wounded. The Shan State Army (SSA) also had 3 killed and 5 wounded.

August 24
Palaung civilian shot dead on the spot by government troops

Villager in Northern Shan State killed by Burma Army.

August 24
Burma Army IB. No. 105 killed innocent boy

Burma Army murders Kachin boy.

August 24
Firewood thief Burmese soldier shot dead by KIA

New Kachin front clash, one BA soldier killed.

August 23
Karen state minister ambushed

DKBA attack regime convoy. Three Burma Army soldiers killed.


August 23
BGF in chaos – another 80 join Karen army

Large number of new desertions from the Burma Army's Karen Border Guard Force.

August 23
Together at last - KNLA and DKBA celebrate Martyrs' Day

Important confirmation of the re-alliance between the DKBA and the KNLA.

August 23
TPP Town People's Militia beats residents

Abuses in Three Pagodas Pass by the military regime's local militia.

August 23
SHAN news releases.
New Burma Army troops arrive at Shan front; desperate conditions for Shan IDPS.

More than 300 fresh troops from Kalaw, where Light Infantry Division (LID) 55 is headquartered, arrived at Mongnawng, 27 miles (43 km) south of Kehsi, where campaign against Shan State Army fighters continue.

557 villagers from Phazawm village, Wanzay tract; and Wanhsang, Hinlai and Napeun villages, Wanphwi tract are facing malaria and lack of food in the jungles where they had fled since 16 August to avoid forced portering and abuses. Some 200 of them are under 18 and some 50 of them are elderly.

August 22
THE NORTH WAR: A KACHIN CONFLICT COMPILATION REPORT

Detailed report on the development of the Kachin conflict.

August 22
Burmese Army soldiers sell ammunition to smugglers in Kalemyo

Tatmadaw soldiers secretly selling arms in Western Burma.

August 21
Karen National Liberation Army six month battle report

This is the 2011 six month battle report for the Karen National Liberation Army. It reveals that from January to June enemy losses (Burma Army and related Border Guard Forces) totaled 761 Killed In Action and 1,047 Wounded In Action casualties.

August 19
Seven Burmese soldiers killed in fighting with KIA

The KIA is on the offensive again.

August 19
Shan front report.

"On the war front, our SSA soldiers have turned the table against the Tatmadaw by driving them back right up to Nong Keo near Maymyao. Their attempt to run over SSA HQ is far from over. They are stuck about 10-20 km away from the Wanhai HQ and they don't dare to withdraw either as they will be ambushed along the retreating lines. They now realized military solution is not the best option. So they are resorting to the same old trick of former PM U Nu's time when KNU was about to run over Rangoon capital 1948, using truce to withdraw their forces from the Shan jungle terrain. As we know the Lady (ASSK) is now released from restriction of movements to allow her to negotiate for peaceful solution by political means. KIA says they must speak to all the five ALLIANCE instead of one at a time."

August 19
Shan children 'used as human shields'

Why is there no international outrage over the Burma Army's war crimes?

August 19
No More Land for the Civilians to Set Foot on

According to the Karenni Development and Research Group (KDRG), there are more than 100,000 landmines planted in Karenni State (by the Burma Army) which is half of the population of Karenni State, that is one landmine for every two persons.

August 19
Ethnic Armies Reject Piecemeal Peace Talks

Ethnic resistance groups firm in their demand that they will only negotiate together and for a nation-wide ceasefire.

August 19
Burmese gov't still exercising an ethnic 'divide and rule' strategy

Additional perspectives on the ceasefire issue.

August 19
SHAN news release
Burma Army officers court-martialed for refusing to follow orders.

Unconfirmed report says Lt-Col Zeya Aung, Commander of Infantry Battalion #22, was court-martialed and sentenced to imprisonment after failing to send reinforcement to troops fighting against the Shan State Army (SSA) in July. It also says Lt-Col Thein Zaw Moe, responsible for road security between Wanzing and Mongnawng, had been court-martialed following ambush of reinforcements led by Lt-Col Win Nyunt late July. According to business sources close to the Burma Army, the campaign against the SSA has not been well-coordinated among the three regional armies: Eastern, Northeastern and Middle East.

August 19
A Glance Inside the Burmese Army

Good analysis of the morale problems in the Burma Army.

August 19
I Am Both Angry And Grateful To The International Community

Analysis of how the United Nations and the European Union are failing the people of Burma.

August 18
Burmese army-KIA fight at Wawang Kumbang

Another clash at the Kachin front. Following BA ceasefire entreaties, the Kachin conflict slowed down. But now that the KIA realizes that the Tatmadaw is not sincere, daily clashes have resumed.

August 18
Villagers face fighting, malaria, hunger and displacement

One hundred and thirty new Karen refugees.

August 17
SHAN news releases:
Burma Army burns monastery; large clash with SSA leaves four BA soldiers killed.

Buddhist dominant Burma Army set on fire that Mong Khawn monastery in Manzi township, Kachin State, on 9 August after accusing the monks of supporting Christian-dominant Kachin Independence Army (KIA), according to local sources fleeing from the area. 

Shan State Army's 726th Battalion base, west of the Namhen, attacked by Hopang-based Infantry Battalion 143 at 20:00, 14 August. The fight continued the next day until late in the night. On 16 August morning the SSA discovered the attackers had withdrawn. It found 4 Burma Army soldiers dead, including Deputy Battalion Commander Maj Tin Myo Tun. It was later reported the Burma Army also suffered more than 20 wounded. On the SSA side, there were 3 killed in action and 5 wounded in action.

August 17
SSA-N refutes Burmese gov't accusation it fired on civilians

Update on recent Burma Army mortar attack on Shan village: Nine villagers were killed.

August 17
Kachin Women's Association Thailand
From August 16 statement: more rapes and murders by Burma Army.

On August 9, a 39-year-old woman and her 17-year-old daughter were gang-raped and killed by troops from Burma Army Light Infantry Battalion 37 near Waimaw. On July 31, a 15-year-old boy was shot and killed when he fled from a Burmese patrol near Kamaing, west of Myitkyina.

August 17
More Hostilities Expected in Southern Karen State

Overview of the current situation on the Karen front.

August 16
Innocent teenage boy shot dead by Burmese soldiers

Burma Army soldiers murder village boy in Kachin area.

August 16
SHAN news release:
New battle.

A Burma Army patrol fought against an unidentified armed group at Loi Piang Fa, Kard Tao tract, some 10 miles north of Kengtung, 03:00-05:00. No further details. The Shan State Army (SSA) says it is still waiting for field reports from its units in Shan State East.

August 15
Kachin News Group news releases:
Many new clashes break out between the KIA and the BA; at least five BA soldiers killed.

8/15 - Fighting between Kachin Independence Army (KIA) troops and the Burmese Army took place on Monday, near Namtu, in Northern Shan State, local sources said.

8/14 - Two military clashes on Sunday, in the morning and evening, took place on the Myitkyina-Manmaw Road, at the village of Nam San Yang, local people said.

At least one government soldier was killed in the morning fighting with KIA troops from Battalion 23, said KIA officers.

New fighting started at Nam San Yang on Friday evening.

8/14 - A Burmese army column was ambushed yesterday evening by the KIA's Battalion 6 on the Hpakant-Namya Road, in Hpakant Jade Mining Township, in western Kachin State, local people said.

At least four government soldiers were killed in the attack, according to KIA officers.

August 15
Fighting breaks out between government and Shan troops

More detail about the clash described in the next item, as well as other news from the Shan and Kachin fronts.

August 15
SHAN news release:
New battle.

Clash between Shan State Army's 576th Battalion and Burma Army's Light Infantry Battalion #503 near Wan Phui, Kehsi township, 14:00-20:00, 13 August. 1 killed and 8 wounded on the Burma Army side and 6 wounded on SSA side.

August 15
Army vents fury on populace

Burma Army mortars Shan village. At least thirteen villagers wounded.

August 12
KIA attacks Burmese troops in Nam San Yang

After a week of no fighting, a new battle on the Kachin front.

August 12
SHAN news release:
More information on yesterday's Shan front battle.

The fight yesterday in Kehsi township was against Nawngkhio-based Light Infanty Battalion (LIB) 114 and not against IB 287 as reported earlier, says the Shan State Army. The battle which began when the Burma Army battalion "deliberately sought out" the SSA took place 7 miles northeast of Kehsi and lasted 5 ½ hours, 12:00-17:30. The attackers retired after sustaining heavy casualties. "We can't understand why they would want to start a fight like that," Maj Gen Pang Fa, SSA leader, was quoted as saying.

August 12
SSA says Chinese engineers released by unknown group

Chinese company reportedly agrees to suspend work on Tasang dam.

August 12
Burmese soldier commits suicide at Waingmaw military base

More evidence of the terrible morale in the Burma Army.

August 11
SHAN news release:
Large battle underway at Shan front.

Heavy clash between the Shan State Army and IB 287 at Pangzay-Loi Yoi, between Kehsi and Nampook at 12:00. "Our guys had them surrounded at the last report (16:00)," said Maj Sai La, SSA spokesman.


August 11
SSA-N and SSA-S launch joint attacks against government

More detail on clash reported by SHAN yesterday (next item). Four Burma Army KIA casualties.

August 10
SHAN news release:
At least ten BA casualties in joint SSA ambush.

Joint Shan State Army 'North' and 'South' column ambushes Burma Army convoy coming south from Kehsi to Mongnawng at 06:20 this morning. At least 10 believed to be dead and wounded.


August 10
Over 30,000 displaced by Burma Army attacks face humanitarian crisis in northern Shan State

Humanitarian impact of Burma Army offensive against the SSA.

August 10
Burma Army Offensive in Northern Shan State (2 July - 4 August, 2011)

Good map of the Shan front.

August 10
Displacement during Burma Army offensive in Northern Shan State (13 March - 10 August 2011)

Map of internally displaced persons in Northern Shan State.

August 10
Update of incidents of fighting between Burma Army and Shan State Army North

Tables of clashes between the Burma Army and the SSA, and associated human rights abuses by the BA against Shan villagers.

August 10
Straightening the Dog's Crooked Tail: One Man's Opinion

Good analysis of why the Burma Army is rushing to reestablish its ceasefire agreement with the KIO/KIA.

August 9
Burma Army fast closing the gap with Mongla

The BA is returning troops to positions near the NDAA.


August 9
A Soldier's Story: My escape from Hell

Good description of the dismal life of soldiers in the Burma Army.

August 8
SHAN news release:
Many new clashes on the Shan front. Thirty-one Burma Army casualties.

At least 8 clashes had taken place between 3-5 August between the Shan State Army (SSA) and the Burma Army: Kehsi township, 3; Mongyai township, 3; and Tangyan township, 2. The Burma Army suffered at least 31 casualties: 2 killed and 29 wounded. More fighting during the weekend, according to SSA sources.

August 8
Burma Army requests return of seized supplies

What audacity!!! The Burma Army is raping and killing Shan villagers. The SSA, defending the villagers, is ambushing BA units and taking their supplies. The BA is now asking for the supplies back!

August 8
Students spread anti-government posters in Myitkyina

What the Revolution in Burma needs is more Underground Group resistance in the cities in support of the armed groups' struggle in the hills.

August 8
Burma govt 'neglecting' Kachin refugees

The Burma Army is committing a war crime by not allowing aid agencies access to the refugees.

August 8
Seven Arrested after being Accused of Supporting Insurgent Group

Seven villagers arrested in Chin State, which area - Western Burma - has seen relatively little conflict. The Burma Army clearly does not want to be involved in a new front. Note: Villagers accused of being part of the resistance are often executed.

August 7
KNLA Situation Report

Clashes involving the KNLA for the period June 16 - July 30

August 7
News of BURMA ARMY (Tatmadaw) attack on SSA Wan-hai HQ.

Burmese Army casualties are put at 400 plus dead and 200 disabled and wounded casualties over a period of three months since early May 2011. The hospital beds in Laikha, Nam Sang (Burmese Mi29 air base) and Loilem are full so they have to take the injured and sick Tatmadaw foot soldiers to Pangtara Burmese military hospital where it is claimed to have over 1000 beds waiting for them.

August 5
Burmese lieutenant and soldier killed by KIA

A new KIA clash with the Burma Army.

August 5
Siege of Shan base relaxed but not lifted

Although the Burma Army has withdrawn troops from positions near the SSA's Wanhai HQ, those that remain are re-provisioning.

August 5
Scorched earth threat in Shan state

The Burma Army is threatening to destroy Shan villages in Southern Shan State if the fighting with the SSA spreads.

August 4
SHAN news release:
Description of July Shan front clashes.

Report from the Shan State Army (SSA) North says it had fought 33 clashes during July, killing at least 38 and wounding 39, while losing 2 killed and 3 wounded. It was unable to account for casualties for 15 clashes, 3 of them together with the SSA South.

Hsipaw township, 2 clashes; Mongyai township, 10 clashes; Monghsu township, 3 clashes; Tangyan township, 2 clashes; and Kehsi township, 16 clashes.

August 3
Police killed in Kachin rocket attack

Additional information about the Kachin ambush described in the next item.


August 3
KIA attacks a Burmese military truck

New Kachin ambush, near Chinese dam site.

August 3
SHAN news release:
Major clash at Shan front.

Burma Army's Yin-Kwe-taung post attacked yesterday by Shan State Army (SSA), between 18:00-19:00. Heavy casualties on the Burma Army side, according to sources, but no figures available.

August 3
Burma Army withdraws from Mongla

Update to yesterday's news releases about the Burma Army withdrawing troops from near NDAA base.

August 2
United We Stand, Divided We Fall

Excellent commentary on Burma's Civil War, which makes two basic points. The resistance forces should not sacrifice their political goals (i.e., freedom) in exchange for economic incentives. In other words, they should not be corrupt and sell out their people. And, they should maintain unity and press their political demands collectively. No resistance groups, most importantly the KIA, should strike separate ceasefire agreements.

August 2
Tavoy-Kanchanaburi will continue to see resistance says KNU

Increased fighting in KNU's 4th Brigade area, in response to major regime development projects. Note: This brigade has seen the least conflict in recent years of any of the KNU units.

August 2
Nationwide cease-fire demand prevents KIO-government agreement

The Kachin are sticking to their demand for a nation-wide ceasefire. Well-done, KIO/KIA!

August 2
SHAN news releases:
Burma Army soldiers withdrawing from positions near NDAA (Mongla).

Around 300 Burma Army troops that arrived on 24 July at the No Man's Land between the NDAA and Burmese frontline outposts near Mong Lwe, southwest of Mongyang left yesterday, thereby releasing the tensions that had flared up a week earlier. The Burma Army said there was no silver metal to be found there as suggested by earlier reports.

The Burma Army's forward base at Mongfan, near the National Democratic Alliance Army (NDAA)'s Hsop Lwe base on the Mekong, has reduced its strength to some 50 troops from about 200 two months ago, according to NDAA sources in Mongla, opposite China's Daluo.

August 2
DKBA to escalate border conflict

The different elements of the Karen resistance are increasing their unity, and planning an offensive to drive the Burma Army from Karen State.

August 2
Govt Shelling Hits Karen Village

The Burma Army has been shelling the Karen resistance forces almost daily since May.

August 1
Burmese army brutally kills a Kachin farmer

Another report (see below) described how the Burma Army killed one Kachin villager and captured another. It has now been learned that the captured villager too was murdered, by being buried alive. The Burma Army are barbarians! Eight other villagers have also been arrested, reportedly to bury bodies. What are the chances that they too will be murdered?

August 1
Hundreds of Karen villagers forced to work at Burma Army camp

Large-scale forced labor in Karen State.

August 1
Civilian shot dead, one civilian arrested by government troops in Kamaing

Kachin villager murdered by Burma Army soldiers.

August 1
Half of government battalions besieging Shan headquarters pull out

In recent weeks many commentators have expected a full-scale offensive by the Burma Army against the SSA's Wanhai headquarters. We, though, were skeptical about this. In the conflict in the area that had been underway, the SSA clearly had prevailed. This article discloses that recent Burma Army casualties at the northern Shan front included 100 killed in action. Had the BA attacked Wanhai such casualties would have risen to the hundreds, which apparently was an unacceptable loss, and which offensive also would have had no guarantee of success.

The Tatmadaw is failing now on all three fronts, Kachin, Shan and Karen. Hence its push for a new Kachin ceasefire.

JULY

July 30
Burmese troops fire artillery at each other

Confused Burma Army units fight each other at the Kachin front.

July 29
Military uses 13-year-old boy to spy on KIA

Burma Army forces Kachin boy to spy on the KIA. The military regime has absolutely no shame. What a collection of cowards!

July 29
Italian-Thai company workers evacuated from Burma

Thai construction workers flee the Karen front. New KNLA clashes leave a reported six Burma Army KIA casualties.

July 29
SHAN news release:
More news of Kyaukme attacks.

Civilian sources from Kyaukme say Artillery Battalion 36 post, south of the town, was attacked by unknown armed band before dawn. About 15 soldiers wounded, some seriously.

Nawng Ang, between Kyaukme and Bawgyo (Maw Kerh) on the way to Hsipaw, was attacked at the same time. 3 either wounded or killed. Shan State Army "South" confirm its fighters were responsible for the attacks. 

July 29
Gunmen Kill Three in Kyaukme Attack

An attack at a regime checkpoint. Also, news of another clash on the Shan front.

July 29
Facebook: Hundreds join movement against Burma Army

The Civil War leads over two hundred Shan youths to join the revolution.

July 28
Suu Kyi's 'Open Letter' calls for immediate cease-fire in ethnic areas

Daw Aung San Suu Kyi offers to mediate the war.

July 28
SSA-S troops ambush government convoys

Three resistance ambushes at the Shan front.

July 28
SSA North not left out in the cold: Spokesman

Two more clashes at the Shan front.

July 28
Families in Kachin war zone ordered out

Burma Army forcibly relocates thousands of Kachin villagers.

July 27
4 Burmese soldiers killed, 12 injured by KIA ambush

Four Burma Army soldiers killed by the KIA.

July 27
Rank-and-file hardships taking toll on Tatmadaw unity

Important: Secret intelligence reveals that ordinary Burma Army soldiers are facing many difficulties, and that this in turn is causing divisions among their commanding officers.

July 27
Mon armed group asks extortion money from government rubber plantation

Regime department receives demand for cash.

July 26
Burma army targets ethnic women

Since June 9, Burma Army soldiers have raped at least thirty-two ethnic minority women, of whom thirteen were then murdered.

July 25
More Refugees Flee to Border Fearing War

Two thousand new refugees at the Kachin front.

July 25
Activists protest Indian arms sales to Burma during ethnic wars

Activist reaction to the appalling news that India is arming Burma's military dictatorship, and is therefore culpable in its war crimes against Burma's ethnic minorities.

July 25
Burmese-Kachin fighting takes place at three locations

New battles between the Burma Army and the KIA at three different locations. Casualties are unknown.

July 25
SHAN news release:
Burma Army gets large shipment of weapons from China.

500 13 ton Sino trucks from Sichuan province and 30 BE trucks loaded with ammo escorted to Lashio today since 06:00. Security provided by IB 241 between Muse and Hsenwi and by LIB 527 between Hsenwi and Lashio.

July 25
Final assault on SSA yet to materialize

SSA in south supporting northern Wanhai HQ with diversionary ambushes.

July 22
Friendly fire kills 3 Burmese soldiers, injures 7

What a joke! Burma Army soldiers masquerading as KIA were attacked and killed by their own troops. This is what happens to you when you are lying, deceiving, murderous, rapist bastards! Welcome to instant karma!

July 22
Burmese Military Reinforces Troops near KIO Bases

KIA destroys another bridge. Laiza is now cut off from Myitkyina and Bhamo. If - as many people are saying - the Burma Army is about to attack Laiza, then bring it on! Its supply and communication lines will be stretched, and easily cut. Laiza is well defended, and the weather now is terrible. The Tatmadaw will suffer unprecedented casualties.

The ethnic resistance groups should fight hard and on many fronts for the next six months to a year. Then maybe the junta will be willing to negotiate in good faith.

July 21
Government troops open artillery barrage near Myawaddy

The Burma Army is using heavy weapons against the DKBA.

July 21
Burma Army's War against Shan: Licence to Rape plus Licence to Commit Genocide?

Burma Army commander orders troops in Shan State to kill local men and rape local women. This is the barbarity of the rulers of Burma. Constructive engagement, anyone?

July 21
Burmese troops close in on Laiza

The Burma Army is creeping up on the KIA headquarters, and many people expect a major attack. The question is: is such an attack likely, or is this posturing to pressure KIA commanders to accept a new ceasefire? One thing that is certain is that the area is extremely well defended. Any attack will be met by fierce resistance, and Burma Army casualties will be high.

July 20
Burmese Army to start full-scale offensive against Kachin minority

Expectation of major Burma Army offensive against the KIA.

July 20
'We will not fight a defensive war for a long time'

Interview with Shan leader and discussion of recent fighting on the Shan front.

July 20
Three regional armies against Shan HQ

Expectation of Burma Army attack against SSA Wanhai HQ.

July 19
Burmese battalion commander and three troops killed by KIA

Four more BA casualties in the latest Kachin front clash.

July 19
Quiet along the front, noisy in the rear

Nampook battle at the Shan front dies down. SSA shifts to guerrilla tactics.


July 19
As fighting continues, Shan refugees seek safety in jungle

Hundreds of new Shan refugees. Also, report of new fighting in two townships at the Kachin front.

July 18
KIA captures 7 Burmese soldiers in Hka Ya war

Increase in reported number of BA soldiers captured bythe KIA from five to seven. Word that BA LIB 21 was effectively routed.

July 18
28 Govt. Troops Killed in Ambush: KIA

High number of casualties from KIA ambush of Burma Army supply column.

July 18
Burmese officials captured by Kachin army

Kachin capture five Burma Army personnel, including two officers.

July 18
Fighting intensifies around rebel HQ

Update on Shan front fighting around Nampook. Burma Army using heavy weapons.

July 18
Burmese shelling forces SSA from bases

Additional information from Shan front. SSA soldiers withdrawing from some positions to protect villagers at risk from BA shelling.

July 15
'Negotiating' recording to be played for President Thein Sein

Important: This article includes information that close to three hundred military trucks, loaded with arms, arrived in Burma from China between July 12 and 14.

July 15
Kachin News Group news release.
New clash at the Kachin front, five Burma Army soldiers killed.

July 13, 2011 at 6 a.m.—KIA's battalion 15 attacked Burmese troops at Sinlum in N'mawk (Momauk) Township in Manmaw (Bhamo) district in Kachin State, said local residents. The Burmese soldiers are from Light Infantry Battalion No. 321, based in Shwenyaungbyin, Waingmaw Township. Five bodies of Burmese soldiers were brought out from the event, said witnesses.

July 15
Junta reinforcements waylaid

More detail on the fighting at Nampook on the Shan front. Four more ambushes by the SSA. Heavy Burma Army casualties, who are being retrieved by helicopter.

July 14
Kachins reject ceasefire with untrusted Burmese government

Kachin delegates reject KIO's plan to renew its ceasefire with the Burma Army. Earlier this year the delegates rejected transforming the KIA into a BGF. This new rejection portends renewed conflict.

July 14
Former BGF fighters ready for war

DKBA soldiers well equipped and ready fight.

July 14
DANGER WITH EVERY STEP: LANDMINES KILLING AND WOUNDING IN KARENNI AREA

First report from Karenni State. The Burma Army has planted tens of thousands of land mines to target the Karenni people.

July 14
Burma Army gives rapists free rein in northern Shan State offensive

The Burma Army has authorized the use of rape as a terror tactic on the Shan front. Four women were raped on July 5th, including one 12 year old school girl.

July 14
SSA troops 'bombed' by government aircraft: SSA

Two Burma Army jets bomb the SSA, likely as a reaction to recent resistance advances (see next item).

July 13
Junta army's road link outpost overrun by Shan rebels

The SSA destroy's an important Burma Army outpost, after luring away most of the outpost's armed contingent.

July 13
KNLA Situation Report

Clashes involving the KNLA for the period June 1-18.

July 13
From Prison to Front Line: Analysis of convict porter testimony 2009 – 2011

Report that in the last two years the Burma Army has used at least 1,700 convict porters in Karen State and eastern Bago Division.

July 13
Children become latest victims of conflict in Kachin State

Another Burma Army war crime. Kachin child refugees are ill and dying because the BA will not allow aid groups to help the refugees from the its war of aggression.

July 13
Clash in Shan State leaves at least six dead

SSA clash with the Burma Army, resistance forces say nine BA soldiers killed.

July 13
Bomb Blast in Shan State Injures Four

Bomb at a military checkpoint. In a separate report on the incident, SHAN reports that the SSA said it was not responsible.

July 12
SHAN news release:
Two new clashes

Two clashes last night:
The SSA North vs Burma Army's IB 286 at Nampook, Kehsi township, north of SSA HQ Wanhai; 1 junta soldier captured alive

At Pakha Hsai, between Mong Awd and Khum Pang, Monghsu township, a surprise encounter at 23:00, casualties unknown; Burma Army chased out by the SSA

July 12
Govt Compromise Needed to Avert All-out Civil War: KIA

Burma Army shelling KIA stronghold at Pajau. Description of KIA ceasefire demands.

July 12
Ethnic Armies Must Defend Each Other: OMCC

Overseas Mon Coordinating Committee calls on UNFC members to support each other and fight, and questions the NMSP's resistance to launching military operations.

July 11
India sends arms and ammunition in 52 trucks to Burma

Important: India, a democracy, is supplying arms to Burma's military regime, a dictatorship. This is atrocious. It should be widely publicized in India's media, and New Delhi should be forced to stop.


July 11
Bomb Exploded in Thantlang, Chin State

More news from Western Burma: A government building is attacked.

July 11
Fresh Govt. Attack on KIA at Hydropower Dam

Some ceasefire! The Burma Army renews its attacks on the KIA.

July 11
ABSDF will reorganize troops in Kachin State

The student army, the ABSDF, is reorganizing its soldiers in Northern Burma to fight alongside the Kachin. According to other reports, ABSDF troops in the south are already fighting with the Karen.

July 11
Burmese government blocks aid to Kachin war refugees

The Burma Army is blocking the delivery of relief supplies to the refugees of its offensive against the Kachin.

July 11
SHAN news releases:
The Wa are expecting to be attacked after the Kachin.

The Wa leadership believes the United Wa State Army (UWSA) is the next on Naypyitaw's hit list, following the Kachin Independence Army (KIA), according to a highly informed source who just returned from the Sino-Burma border.

On July 9th, the SSA attacked a police vehicle carrying two of its fighters.

A police vehicle carrying two Shan State Army suspects attacked near Khong Noi, between Loilem and Taunggyi attacked by SSA troops. The two escaped with their rescuers. Other versions say they were killed together with the security guards.


July 11
Pro-government Force Retakes Karen BGF Headquarters

The title is misleading. DKBA troops have withdrawn from Myaing Gyi Nyu, to spare local villagers and temples, which would have been caught in fighting crossfire. The DKBA is now launching guerrilla operations against the Burma Army and Chit Thu's Karen BGF.

July 9
Deadly ambush kills Burma army officers

More details about a July 2nd ambush by the KNLA, in which two Burma Army officers were killed and another one was seriously injured.

July 9
Burma army threats force villagers to abandon farms

Villagers at the Karen front abandoning their farms to escape being forced to porter for the Burma Army.

July 9
Burmese Army applies intra-tribal clash tactics in war on Kachin

The Burma Army is using divide and conquer tactics against the Kachin, by forcing remaining BGF troops to fight the KIA.

July 9
Burman Troop's Offensive against Kachin: A Post-colonial Nationalistic Interpretation (research)

Analysis of the regime's Burman nationalism as the driving factor behind the expanded conflict with the ethnic minorities.

July 8
Kachin army ambush leaves 30 dead

Kachin ambush on July 7 results in some thirty Burma Army killed in action casualties. Due to the date, this attack appears distinct from the clashes reported on July 4 (see below), which also totaled at least thirty such casualties.

July 8
Campaign stalemate, war goes on

Daily clashes in at least four locations on the Shan front. Very limited information is available on these clashes, but in one, two Burma Army soldiers were reported killed.

July 7
Village chairman arrested by CNA in Chin state

The Chin National Army asserts itself.

July 7
SHAN news releases:
Correction to report on SSA.

Re: Report about the Shan State Army (SSA) South urging the embattled SSA North to abandon its besieged HQ base in Wanhai, Kehsi township, 5 July 2011, was turned down by SSA officials as "inaccurate". SHAN says it is happy that field reports from the SSA North are still forthcoming despite the misunderstanding.


Burma Army search and destroy mission in Shan State.


From 2-5 July, a 200 men patrol made up of 3 infantry battalions: IB 64, LIB 513 and LIB 577 launched a search-and-destroy operation in Monghsu township. Abuses and loots reported by the local people:

- K 2 million plus (not including donation box at Ta Hsarmpu temple) 
- 32 bottles of cooking oil
- 2,240 liters of rice 
- 22 bags of ajinomoto
- 75 chickens 
- 3 pigs 
- More than 90 people detained
- Rapes in Mongkhang

July 7
Karen BGF Talks Break Down; Tensions Remain High

Attempt by the Burma Army to reconcile with defector Karen BGF fails. Only Chit Thu's unit remains loyal to the regime.

July 6
The Burma Army's Offensive Against the Shan State Army - North

Timeline and analysis of Burma Army operations against the SSA.

July 6
SHAN news release:
In Shan front, Burma Army forces local villagers to wear uniforms and lead columns; five new clashes.

12 villagers were forced to wear Burma Army uniforms and lead the advance guard after a joint patrol of IB 64 and LIB 515 were ambushed by the Shan State Army (SSA) North on 2 July at Kiu Ma Yui, Mongnawng Sub-township, Kehsi township. Three more clashes between SSA and LIB 513 on the same day and 1 on 4 July.

July 5
Travelers released by armed group

Culmination of a recent transport attack in Mon State.

July 5
KIA limits military resistance to Burmese government

Is the KIA falling into a Tatmadaw trap? There is no sincerity in the regime's ceasefire offer. It is only a ploy to buy time to reposition its troops for new attacks. In a war, restricting yourself to defensive operations is suicidal.

July 5
SSA South wants SSA North to evacuate from its main base

Update on the situation at SSA HQ Wanhai.

July 4
War continues between KIA and Burmese army

Three new battles on the Kachin front. A total of at least thirty Burma Army soldiers died in the first two; casualties from the third are still unknown.

July 4
Burma Officers Killed in KNLA Ambush

Two senior BA officers killed in a KNLA attack over the weekend. Two other BA KIA casualties.

July 4
Children forced to carry frontline supplies

Rampant use of forced labor, even of village children, by the Burma Army at the Karen front.

July 1
Burma Army commander ambushed

Ambush of Burma Army officer at the Shan front.

July 1
Shan upheaval as gas attack fears spread

Shan fear chemical warfare from the Burma Army.

July 1
Plain clothes Burmese soldiers rob and assault Kachin people

More human rights abuses by Burma Army soldiers at the Kachin front.

July 1
No one obeys gov't order to hand over weapons in Mon State

Conflict in Mon State becoming more likely.

July 1
BGF Commander Killed in All-Karen Clash

Update to the next news item: The commander of BGF Battalion 1011 (which still supports the Burma Army) is among the KIA casualties in the new Karen offensive.

JUNE

June 30
BGF attacks Burma Army camp

Important: Major attack by the Karen resistance on a Burma Army camp. For years the Karen revolutionary forces have been weak, engaging mainly in defensive operations to protect villagers. With the collapse of the Karen BGF and the subsequent re-alliance of the DKBA with the KNLA, they are now strong enough to conduct large offensive operations. If these operations continue and expand, the freedom fighters have the potential to drive the Burma Army from much of Karen State, finally giving the local citizens (like the people of Benghazi in Libya) freedom from fear.

June 30
Kachin Army attacks Burmese military convoy

Burma Army movements to prepare for war continue even while a ceasefire negotiation is supposedly underway. KIA, do not be fooled by the SPDC's lies!

June 30
Chinese made military trucks arriving at border raises question

China supplying more than one hundred new military trucks to the Burma Army.

June 29
Burmese troops cross Chinese border for offensive against KIA

Two hundred Burma Army troops enter China in civilian clothes. Kachin Independence Army expects attack on its Laiza HQ from Chinese territory.

June 29
LID 22 Troops Prepare for War In Karen State

Burma Army moves three hundred more soldiers to the Three Pagodas Pass area.

June 29
Bombs Hit Taungoo and Thanbyuzayat

Two more explosions, and two buses set on fire.

June 29
SHAN news release:
SSA soldier stopped by Burma Army, kills one BA soldier.

Private Ai La from the Shan State Army's Battalion 807, 72nd Brigade, who was on errand to Mong Nawng, a sub-township seat of Kehsi township, stopped by 3 Burma Army men (1 officer and 2 enlisted men) before entering the town. During the ensuing shootout, the officer was killed and his pistol taken by Ai La, who escaped unscathed.

June 28
Two short, powerful videos from Burma Issues of one family of Karen villagers trying to survive under the Burma Army's reign of terror.

Finding food in fear

Living in fear


June 28
Trains carry weaponry into Kachin capital

Burma Army preparing for large-scale warfare against the Kachin

June 27
SHAN news release:
Three Burma Army soldiers killed in SSA attack on road construction project.

Burmese troops guarding the Kengtung-Mong Ngen (Mong Khark township) road construction project attacked by Shan State Army "South" on 11 June. 3 dead and 5 wounded. The Burma Army had been subjecting villagers (Shan, Palaung and Lahu) to forced labor and other abuses, according to a report coming to the border. The SSA has neither confirmed nor denied it.

June 27
Kawkeriek civilian shot dead by Burma army

Burma Army soldier shoots a taxi driver at a checkpoint. New attack by the Karen resistance on a BA camp.

June 25
Chinese-Burmese military officers meet in Mangshi on KIA

Important: This article confirms the June 17 post (see below) of the contents of a top secret Burma Army letter that China will fund and arm the BA in its attacks on the Kachin. In a June 23 meeting between BA commanders and Chinese military officials, the Chinese granted permission for BA troops to cross into China to attack the KIA HQ at Laiza from the East. China is now a full ally of the Tatmadaw in the Kachin conflict. The only thing it has yet to do is commit its own PLA soldiers to the fight.

June 25
Civilians supporting KIA threatened with death

Burma Army announces its intention to commit war crimes against Kachin villagers.

June 24
Moscow's Nuclear Envoy Visits Burma

While not directly connected to the current armed conflict in Burma, this article is relevant because of the gravity of the military regime's clandestine WMD proliferation program, which Russia is assisting at a minimum with training, and also Putin's conventional arms sales to the junta starting with MIG-29s.

Burma's dictatorship recently announced that it is too poor for Nukes. This is hogwash, as the arrival of the Russian envoy demonstrates, as well as the U.S. interdiction on May 26th of a North Korean vessel heading to Burma with a cargo identified as missile components (see June 13 post below).

Also, few people have commented on the evolution of the regime's propaganda. First it said that it had no nuclear program or aspirations whatsoever. Then, after Dictator Watch and Democratic Voice of Burma provided hard evidence to the contrary, the regime changed its position, saying that while it did have a nuclear program, it was for peaceful, research purposes only. To our knowledge, no Burma analysts recognized this subtle shift. Now the story has changed again to the plea of poverty, all the while energy prices and also direct investment in Burma are soaring.

While new intelligence on the WMD program has been sparse, it is clear that the regime is moving full steam ahead with its ambition to in one way or another possess an atomic bomb.

June 24
Three Burmese soldiers killed fighting KIA in Manje

Three BA soldiers killed in clash with KIA Battalion 12 in northern Kachin State.

June 24
Burmese government, KIO continue fighting in Kachin State

Fighting still underway in a number of locations on the Kachin front.

June 24
Shan army's key bridge burnt down

Burma Army burns down Shan bridge. Two BA soldiers killed in nearby clash.

June 24
A second bomb goes off in Mandalay–fourth bomb on Friday

Bomb blasts in Burma cities. Unknown culprits. These are probably regime actions, to use for propaganda attacks on the resistance. Such unidentified blasts have been taking place for years.

June 23
War snowballs; Kachin refugees influx to China border

There are now more than 20,000 refugees from the Burma Army attacks in Kachin State. Refugee conditions are poor since the rainy season is underway. Malaria and cholera are spreading.

June 23
SHAN news release:

The Shan State Army (SSA) "North" withdrew from the Ta Pha Hsawng crossing battle in Kehsi township, some 20 miles west of its former head quarters Wanhai, yesterday after being heavily shelled, according to SSA sources. Wanhai, abandoned by its leader Maj Gen Pang Fa since the start of the campaign in March, has been strictly left alone by the Burma Army so far.

June 22
New war front opened between KIA and Burmese troops in Puta-O

Fighting begins in the far north of Burma.

June 22
Namkoi railway bridge blown up by KIA

Burma Army's main rail transport line from Myitkyina to the conflict zone is cut.

June 22
Serial mine explosions in northern Myitkyina

Details of three explosions against regime facilities in Myitkyina.

June 22
FBR REPORT: People in Karen State Face Attacks, Forced Labor, Land Confiscation and Disastrous Weather; FBR Teams Bring Relief

Overview of Burma Army humanitarian abuses, and FBR relief operations, in the different districts of Karen State.

June 22
Burma pledges to rout Indian separatists

Even with battles underway on three fronts (Kachin, Shan, Karen), the Burmese dictatorship pledges to India to open a fourth in northwest Burma.


June 22
KIA Launches Targeted Urban Attacks

Bomb attacks in Myitkyina, and on railway bridge.

June 22
18 women gang-raped in Kachin state

Eighteen confirmed rapes by Burma Army soldiers in the Kachin area; thirty suspected.

June 22
SHAN news release:

A battle has been going on since 07:00 until 20:00 yesterday at Ta Pha Hsawng crossing of Lawng river, a tributary of the Pang, between 3 townships: Kehsi, Mongyai and Hsipaw. One of the Shan State Army 27th Brigade's units was attacked by Mongao-based Infantry Battalion 33. Both sides have been taking a break since until 09:00 this morning, with reinforcements coming to each side. "It's a sort of encirclement game," said one officer, "First, they encircled us and then, we encircled them. Then they encircled us again and so on."

June 22
Burmese government preparing offensive against Karen armed groups

Likelihood of large-scale warfare on the Karen front.

June 21
Clashes increase after more Burma Army troops deployed to Shan territory

Continuing clashes near SSA Wanhai HQ.

June 21
Two die after gunman opens fire in Karen state

Attack at Burma Army checkpoint.

June 20
Kachin raped, killed by Burmese troops

Report that seven Kachin women have been raped by Burma Army troops in recent days, with four then murdered. The regime is increasing its frequency of the crime of using rape as a weapon of wear. The question is: Is this being ordered purposefully by regime commanders, as a way to terrorize the local population?

June 20
Sinbo witnesses heavy fighting between Burmese troops and KIA

Contrary to some reports, there is no lull. Heavy fighting continues on the Kachin front.

June 20
A Hydropower Dam Site in Pegu Attacked

Karen attack a dam site.

June 20
Burma deploys extra troops to Karen state

Burma Army preparing to fight Karen BGF defectors.

June 20
SHAN news releases:

Clash on June 18, three BA soldiers killed

Shan State Army (SSA)'s Brigade No.1 from Township No.9 in Mongyai ambushed a patrol of Burma Army Infantry Battalion (IB) 67, between Tangyan and Lashio motor way, Shan State North, from 13:30 to 14:00. Three Burma Army soldiers were reported dead, the SSA sources said.

Clash on June 17, one BA soldier killed

A squad of Shan State Army (SSA) from Brigade 72 led by Corporal Sai Taw was engaged in a clash with Burma Army Infantry Battalion (IB) 286, at Kungmai Nyawng, Mongnawng Township, leaving one Burma Army soldier dead and several others injured, according to SSA sources.

Three more Shan villagers killed by Burma Army soldiers

Yet more local villagers in Shan State, especially from areas where clashes between the Shan State Army and Burma Army were reported shot dead by Burma Army troops patrolling in the area. On 16 June, three villagers from Hsipaw township, one of the war zone between the SSA and Burma Army, were killed. One of them Sai Jing, 35, from Wan kung Yome, Hseng Kaew village tract, Hsipaw  was shot in the village by Burma Army from LIB#501 based in Kyaukme, according to local sources. The other villagers were Nang Htay, 13, and Nai Lu, 70, granddaughter and grandmother, from Wankang, Wanmaw village tract of Hsipaw, were similarly fired upon by Burma Army soldiers from Mongyai based Infantry Battalion (IB) 67.

June 18
KNLA attack kill 8 and wound 7 Burmese soldiers

Report of a new large clash.


June 18
Burmese Army's Southeast Command Prepares Its Troops

Burma Army preparing for war against the Mon.

June 18
Burma army shelling displaces 200 villagers

Burma Army use of heavy weapons in Three Pagodas Pass area triggers Karen IDP crisis.

June 18
Motorbike gunmen target Burma army soldiers

Unusual ambush in Karen conflict.

June 17
Seventeen Burmese soldiers killed in Sinbo

Results of clashes in Mohnyin Township.

June 17
KIA attacks Burmese troops in Dum Bung Krung

Description of KIA offensive against the Burma Army.

June 17
Burmese Army Warns Families to Relocate to the Center of Town

Update on the situation at Three Pagodas Pass.

June 17
TOP SECRET LETTER OF SPDC
(Scroll down to find it in the blog.)

Letters from SPDC generals disclose:

48 Burma Army KIA casualties.
Expecting heavy weapons and ammunition from China by the end of June.
The fighting near the Kachin State dams is for Chinese business interests.
China will also fund the conflict.
Political prisoners are to be used as porters.

June 17
Burmese government offers KIA a cease-fire; fighting continues

Fighting in Mohnyin District today results in seven Burma Army KIA casualties.

June 17
Prisoners from Insein Prison are taken to unknown location

Burma Army using prisoners to porter in conflict zones.

June 17
KIA announcement to Burmese Armed Forces personnel:

KIA announcement calling for defections from Burma Army translated into English.

June 17
Irrawaddy news release:

Burmese Troops Using Villagers as Human Shields

Burmese government troops have banned residents of two Kachin villages—Hna Lin Hpa and Ton Hon in Na Kham Township—from fleeing so that they can use the villagers as human shields, said local residents. Seng Aung, who lives in Laiza on the China-Burma border, said that some villagers want to escape the hostilities, but the government won't let them go. Some lie to the authorities, saying they are going to work on their farm, but then flee to Laiza for safety. Meanwhile, four Kachin villagers in Ma Kan Village, Na Kham Township, were arrested and tortured by government troops.

June 16
Tatmadaw shelling kills one child, injures another in Mae T'Ler village

Burma Army mortar attack kills a Karen child.

June 16
SHAN news releases:

Martial law in Bhamo

Bhamo township, Kachin State, is said to be under Martial Law after fighting between the Burma Army and Kachin Independence Army (KIA) took place in the area on 14 June, according to local sources. A curfew is enforced after 21:00 (local time) and every shop and restaurant also has to close by 20:00. Authorities will not take responsibility for anyone outside after the curfew. Security in the town has tightened as well. Everyone crossing and passing the town is strictly checked and asked to show ID cards by Burma Army authorities. No one is allowed to pass by after 18:00 O'clock, said a source.

Four Shan villagers killed by Burma Army

On 14 June, 5 villagers from Nazawng and Hsai Leng villages, Wanpang village tract, Hsipaw Township, Shan State North, were shot while were working on a farm by an unidentified Burma army unit active in the area, leaving four dead and one injured. The victims were:
1.      Sai Lu, 34, Hsai Leng village
2.      Sai Jing, 25, Hsai Leng village
3.      Hsang Hla, 30, Hsai Leng village
4.      Hsang Mya, 30, Hsai Leng village and
5.      Sai Htun, 20, Nazawg, Mongkhurh, Hsipaw Township, wounded on his left shoulder

SSA-BA clashes result in eight Burma Army KIA casualties

On 13 June, around 21:45 local time, a squad of Shan State Army fighters from Brigade NO.74 led by Corporal Sai Kham made an attack Burma Army soldiers from Infantry Battalion (IB) 518 and Light Infantry Battalion (LIB) 247) based in Ho Nga, Namzeng village tract of Shan State South's Monghsu township, leaving three dead on the Burma army side and 12 wounded. Another 2 injured soldiers died on the way to receive medical treatment at Monghsu hospital. One more died as soon as he arrived at the hospital, according to local sources and SSA. The rest were said to have been brought to Loilem hospital. On the same day, a patrol of Burma Army from Shan State South's Mongnawng based Military Operations Command (MOC) #2, one of the bases that oversee the operation against the SSA, was ambushed again at Loi Zuen Mountain, south of Monghsu. One of the high ranking officers Colonel Myint Zaw, along with one private died on the spot. Three other soldiers were seriously wounded.

Clashes near SSA Wanhai HQ result in four Burma Army KIA casualties

The Shan State Progress Party/Shan State Army (SSPP/SSA) says it is well-prepared to protect its headquarters Wanhai following the immediate reinforcement of the Burma Army troops near its HQ. Yesterday, around five battalions of Burma Army troops were deployed to areas two miles away from SSA HQ. On 13 June, four Burma Army soldiers from a Monghsu based battalion were killed and 5 wounded in a fighting took place at Loi Khio Mountain on the way to Tawoonkeng, one of the crossings of the Salween River, Shan State South. The fighting took place around 9:30 local time and lasted about half an hour between Shan State Army (SSA) Brigade No. 74, Battalion 196 and an unidentified Burma Army unit, according to SSA officers.

June 16
KIA encourages defection in Burmese Army

KIA implements long-advocated Dictator Watch recommendation, already in place by the KNU, to call upon Burma Army soldiers to defect.

June 16
Over 10,000 Kachin refugees flee to China border

Conflict's associated humanitarian impact.

June 16
KIO destroys 10 bridges and capture and arrest six

KIA systematically destroying bridges to restrict Burma Army movements.

June 16
Two Burmese Army soldiers die in bus accident

Troops from Chin State being moved to Kachin battle areas. Private buses commandeered, accident leaves two BA troops dead.

June 16
Schools in Three Pagodas Pass Closed in Fear of Attacks

In Karen area, Burma Army soldiers wearing civilian clothes to use local population as a shield.

June 15
Two former NDA-K leaders put under house-arrest in Myitkyina

Burma Army trying to prevent Kachin BGF defections.

June 15
KIA destroys two bridges in Northern Shan State

KIA destroying bridges to limit Burma Army movements, including on key trade route into China.

June 15
Chinese dam workers evacuated by Kachin Army

Map of clash locations in relation to Chinese-built dam sites.

June 15
Thousands Flee to China to Escape Kachin Conflict

Thousands of Burmese, mostly Kachin villagers, fled their homes on Tuesday to seek sanctuary in China or took shelter at the China-Burma border as the conflict in Kachin State intensified. Most were from Momauk, Bhamo, Mansi, Waingmaw and areas near Myitkyina, the capital of Kachin State. Many villages are now said to be "ghost towns" as troops from the Kachin Independence Army exchange hostilities with the Burmese army nearby. Some estimates put the number of Kachin refugees at up to 10,000 with an unknown number thought to be hiding out in the jungle. (Irrawaddy)

June 15
Kachin Fighting Spreads to Northern Shan State

Clashes broke out last night between Burmese troops and the Kachin Independence Army (KIA) at two different locations in northern Shan State, where the KIA's Battalions 8 and 9 are based, according to a report by the Kachin News Group, quoting KIA officers and local sources. The two KIA battalions are under the command of the Loikang-based KIA's Brigade 4 in northern Shan State. Battalion 8 is based between Nam Hkam and Nam Hpak Ka towns while Battalion 9 is located in Dak Nai near Kutkai. (Irrawaddy)

June 15
'Government troops are carrying out a test of their strength'


Interview by Pa-O leader discussing the possibility that resistance groups who currently are not fighting the Burma Army will come to the aid of those who are.

June 14
BGF recruiting new soldier by picking votes

Karen BGF soldiers forcibly enlisting new troops.

June 14
Civil war starts after KIA's dead line on Monday

The Kachin ceasefire, dating to 1994, is over.

June 14
Nam Hpak Hka suspension bridge immobilized by Kachin armed group

The KIA destroys a bridge to prevent Burma Army troop movements and resupply.

June 14
More Burma Army troops deployed to SSA HQ

Burma Army reinforcing troops near SSA'a Wanhai HQ. New clashes result in five BA KIA casualties.

June 14
Three Pagodas Pass Under Attack

Burma Army refuses Karen demand to withdraw from its TPP base.

June 14
Karen Armed Group Burns House in Three Pagodas Pass

Karen resistance attack business of Burma Army collaborator.

June 13
'They are not working for the people'

Overview of the conflict in Burma and other issues by Karen leader.

June 13
Karen Villagers Flee Three Pagodas Pass in Anticipation of Fighting Between Karen Forces and Burmese Troops

Karen troops demand regime forces withdraw from Mae Khasa village.

June 13
US intercepted N. Korea ship over arms fears

SEOUL (AFP) – The US Navy intercepted a North Korean ship suspected of carrying missiles or other weapons to Myanmar and made it turn back, a senior US official said Monday. The comments by Gary Samore, special assistant to President Barack Obama on weapons of mass destruction, confirmed reports of the incident, which happened last month, in The New York Times and South Korean media. The New York Times said the ship was intercepted south of the Chinese city of Shanghai by a US destroyer on May 26.

June 13
Burma's obfuscation hides a nuclear secret

Overview of concerns about Burma's WMD proliferation.

June 13
Shan army loses another base

New attack against SSA by Burma Army, using heavy weapons.

June 13
Kachin armed group gives ultimatum to government to stop offensives

KIO ultimatum following two days of clashes. All out war increasingly likely.

June 13
KIA 'Loses Patience' with Burmese Govt

More information on recent clashes and likelihood of expanded conflict.

June 13
Corpse of tortured Kachin soldier returned

Burma Army torturing and killing captured resistance soldiers.

June 11
Battle between Burma Army and KIA resumes at Sang Gang

The second major battle between the Burma Army and the Kachin Independence Army is underway.

June 11
1,000 BGF troops join forces with Karen army

Massive defections from the Karen BGF. The resistance forces are now much stronger.

June 11
Retired DKBA officers face threats, ongoing surveillance

The Burma Army is afraid of a complete collapse in the Karen BGF.

June 11
KNLA attack killed and wounded 13 Burmese soldiers

Description of a recent large clash.

June 10
Burmese Soldier Shot by Border Guard Force in Three Pagodas Pass

More tension between the Burma Army and remaining BGF troops.

June 10
KIA on High Alert after Overnight Fighting

Report on the aftermath of the KIA clash.

June 10
Fighting stops with exchange of captives

More detail on yesterday's BA-KIA clash.

June 10
Statement on the June 3 attack with chemical weapons.

The Shan State Army (SSA) North fighter who was paralyzed after a severe dose of the black smoke created by the chemical shells on 3 June recovered in about 6 hours, confirmed one of his officers from the 36th Brigade. The Burma Army employed chemical shells on the rebels at the 7th Mile Base, between Tangyan and Monghsu, after a 7 hour attack failed to dislodge them. (SHAN)

June 9
Tightened Security in Sino-Burma border

Discovery of pistols being smuggled from China.

June 9
Overnight Clash in Kachin State

First significant clash between the Burma Army and the Kachin Independence Army.

June 9
Fighting between Kachin and Burmese troops for three hours

Detailed account of the BA-KIA clash. The Burma Army suffered at least nine casualties, including three deaths.

June 8
Dozens of Villagers Forced to Porter in Three Pagodas Pass

Villagers forced to porter by the Burma Army, with some used as human mine sweepers.

June 8
KNLA Situation Report

Significant clashes involving the KNLA for the period May 3-29.


June 8
Fears mount over chemical weapons use

Description of the June 3rd clash where the Burma Army reportedly used chemical weapons against the Shan State Army. Ten BA soldiers died in the battle.

June 8
3 villagers shot by Burma Army soldiers

Soldiers from a Burma Army camp in southern Shan State where a new regional command is being installed opened fire on three local villagers, a father and two sons, after they identified themselves. The father, Sai Ti, was killed, and his sons are now in a local hospital.

June 7
Tight security checks underway at Naypyitaw and Rangoon railway stations

Bomb explosion on May 18th on a train between Mandalay and Naypyitaw, and increase in regime security.

June 7
Being honest about using CW

History of Burma Army use of chemical weapons.

June 7
The BGF Jigsaw Puzzle

Overview of ethnic ceasefire groups, from the Kachin in the north to the Karen and Mon in the south, that have refused to transform to BGF.

June 6
Situation Unstable After Bomb Blast in Three Pagodas Pass

Bomb attack against BA military intelligence office.

June 5
FBR REPORT: Burma Army Uses Forced Portering and Relocates Villagers in Western Karen State

Photo essay of Burma Army soldiers forcing Karen villagers to porter.

June 4
Forcible porterage in some parts of Chin state

Villagers being forced by the Burma Army to carry ammunition in rural Chin State. A precursor of expanded conflict?

June 3
Karen BGF Troops Begin Returning to the DKBA

Update on situation with the Karen BGF.

June 3
SSA clash statement - Burma Army using chemical weapons.

The Shan State Army's strategic base in Tangyan township, 7 miles south of Mong Gao, attacked from 05:30 up to the time of this reporting. The Burma Army attackers are using chemical weapons, which on explosion, cause dizziness and nausea, claim the defenders. (SHAN) The SSA withdrew at noon, according to Col Perng Fa, Head of SSA liaison team - Editor

June 2
Cash starved DKBA extorts money from drivers

DKBA Brigade 5 short of funds.


MAY


May 31
SSA clash statement.

Col Sai Htoo, Assistant Secretary General #2, Shan State Progress Party, the political arm of the embattled Shan State Army "North" says the group has fought more than 60 clashes since 13 March against the attacking Burma Army, inflicting some 300 casualties while suffering about 10 on its side. "Burmese soldiers at the front send both verbal and written messages to us not to kill them, as they have wives and children and want to return to them" he adds. (SHAN)

May 31
FBR REPORT: Burma Army Attacks and Forced Labor in Western Burma

Descriptions of clashes in Western Burma between the Burma Army and the Arakan Liberation Army and the Chin National Army.

May 31
Mass revolt blurs Karen loyalty

Report that entire BGF Unit 1012 (500 soldiers) is refusing Burma Army demands.

May 31
The Shan Sniper

The Shan State Army-South's sniper team, an example of a special operations unit, which have been formed by other resistance groups in Burma as well.

May 31
Ten Villagers Forced to Porter for LIB No. 563

Forced portering for the Burma Army in the Three Pagoda Pass area.

May 30
Villagers Flee Fighting in Mae Thasa Village

Impact of a clash by DKBA Brigade 5 troops against Burma Army soldiers, and an overview of the situation in Three Pagodas Pass.

May 30
Two battalions of Burmese reinforcements deployed near KIA position

Burma Army reinforcing positions near KIA Battalion 9 in northern Shan State.

May 30
Gunfire puts Kachin truce on tenterhooks

Clash between KIA and Burma Army near the town of Mansi.

May 30
Burmese government troops use civilians as human shields: KNU

The Burma Army's continuing war crime of using local villagers, including women, as mine sweepers, human shields, and forced laborers.

May 27
First gunfire in N. Burma after KIA deadline

First shots fired between the Burma Army and the KIA, following the BA's refusal to withdraw from its outposts near KIA positions.

May 26
Statement on the Use of Karen Civilians for Forced Labor and as Human Shield by Burma Army

Documentation of war crimes: 2,051 villagers forced to labor for the Burma Army and 1,220 villagers forces to act as human shields and human minesweepers. Also reports the murders of seven villagers by Burma Army troops.

May 25
Aung San Suu Kyi condemns sexual violence by Burmese army

Burma's pro-democracy leader condemns the Burma Army's continuing war crime of committing sexual violence against ethnic minority women.

May 24
All KIA troops in Northern Burma on alert

Kachin Independence Army troops are placed on alert due to the possibility of clashes with the Burma Army.

May 23
SSA 'South', SSA 'North' declare 'We are one'

Shan State Army-North combines with Shan State Army-South to create a unified Shan State Army.

May 19
Militia men from battlefields deserting

Seventy-eight soldiers in militias loyal to the Burma Army have defected since March to the Shan resistance forces. Dozens of Burma Army soldiers have defected as well.

May 19
Bomb Blast in Myawaddy

A bomb blast at the Myawaddy post office, across the river from the Thai town of Mae Sot.

May 18
Karen State Conflict Intensifies

Overview of the conflict in Karen State.

May 16
Junta army employs more militias against Shan rebels

Due to high casualties, the Burma Army is forcing local militias to join its fight against the Shan State Army-North.

May 14
Armed Group Seizes the Telecommunications Office in Mudon, Killing a police officer and injuring another

Attack on the Mudon telecommunications office.

May 13
Conflict worsening Karen food crisis

Nearly 9,000 villagers face food shortages due to Burma Army operations.

May 12
Civilian shot, killed by Burmese troops

Burma Army soldiers murder Karenni man.

May 12
Wa fighters shot by Burma Army, killing one

Five UWSA soldiers attacked by the Burma Army.

May 12
Karen hospital hit by artillery fire

Joint operation of the DKBA and KNLA against the Burma Army, in which stray shells hit a nearby hospital. Other recent clashes are mentioned as well.

May 11
Burma Army officers killed in Shan ambush

Thirteen BA soldiers, including seven officers, killed in an ambush by the SSA-South.

May 4
Karen State Refugees Flee Latest Clash

500 villagers flee Burma Army-KNLA clashes.

APRIL

April 25-30
KNLA Situation Report

Significant clashes involving the KNLA for this period.

April 30
Burmese mortar shell falls in KIA area

The Burma Army shells the territory of KIA Battalion 14; claims it was a mistake.

April 17-27
KNLA Situation Report

Significant clashes involving the KNLA for this period.

April 27
7 villages in Shan East burnt down by Burma Army soldiers

Continuing human rights violations in Shan State.

April 26
Border force defects, attacks Burma unit

Twenty-nine troops of BGF 1012 defect and join the resistance.

April 25
Fighting erupts between government's troops and breakaway DKBA

Fighting between the Burma Army and DKBA soldiers who refused to join the BGF.

April 25
Three Reportedly Killed in Internal BGF Clash

Conflict between former DKBA soldiers in Border Guard Force unit 1012, who did not want to join the BGF, and other BGF soldiers who did. Also describes desertions to KNLA from BGF 1016, and attack on Burma Army LIB 212 by DKBA Brigade 5 (which refused to join the BGF).

April 25
Seven Civilians Kidnapped by Mon Armed Group

Timber workers kidnapping by Rehmonnya Hong Sar, released after paying ransom.

April 22
Burma Army pursuing 4 cut aims in former ceasefire territories

Renewal of the Burma Army's scorched earth 4-cut campaign in northern Shan State. First used against the Kachin in the 1960s, and then the Karen in the 1980s, an earlier 4-cut campaign in Shan State in 1996-1998 displaced over 300,000 people in 1,500 villages.

April 22
Junta army has women porters lead the way in war zone

Burma Army forces women in Shan State to porter, threatens them with rape. Also mentions an ambush by the SSA-S on April 12th that killed five BA soldiers and another clash the same day that killed three BA soldiers.

April 21
Villager beaten nearly to death by soldiers in Buthidaung

A villager was beaten by Burma Army soldiers in Arakan State after seeking repayment of a loan from another villager who collaborates with local regime officials.

April 11-20
KNLA Situation Report

Significant clashes involving the KNLA for this period.

April 20
Burmese government decides to go to war against KIO

Sources in Naypyitaw say that the new Burmese government has decided to go to war with the Kachin Independence Organization.

April 20
Burma Army soldiers fleeing from battlefields in Shan state

Ten BA soldiers defect in southern Shan State. At least ten more were reported killed in a clash with the SSA-S on April 16-17.

April 4-13
KNLA Situation Report

Significant clashes involving the KNLA for this period.

April 13
Burma military developing a secret weapon in north

Report that the Burma Army is developing chemical weapons at a secret site at Mabein in southern Shan State.

April 12
Human Rights Abuses Reported in Shan State Clashes

Description and map of Burma Army clashes with Shan State Army-North from March 13 through April 6, and associated human rights abuses by the BA.

April 4-9
KNLA Situation Report

Significant clashes involving the KNLA for this period.

April 9
Wa broke through cordon "with Shan help"

UWSA soldiers escape from Burma Army encirclement.

April 2-7
KNLA Situation Report

Significant clashes involving the KNLA for this period.

April 6
Chinese army waiting on other side

The Chinese Army is building a new camp across the border from northern Shan State.

April 6
Shan rebels on offensive defense

SSA-North attacks Burma Army.

April 1
Burma Army close all boat routes to Shan army areas

The Burma Army closes all river routes to the territory of the Shan State Army-North.