SPDC WAR CRIMES
Caution: these photos are graphic. They are not suitable for children.

Photo source: Saw Takkaw

The following photos, taken in Karen State inside Burma, document war crimes committed by the Burmese Army. Most of the photos, though, are of crimes not against the Karen but instead against a group of Burmese traders. The SPDC are also thieves, and will steal from anyone. However, their usual targets are the hill groups. The Burmese dictators have a direct policy to eradicate the Karen, Shan and other hill peoples using the tactics of forced relocation, forced labor, rape and murder. This constitutes ethnic cleansing, crimes against humanity and genocide, and one day these acts shall be the subject of trial in the International Criminal Court. Unfortunately, though, that day remains far in the future, because the world community prefers to talk rather than act. The policy of the diplomats of the United Nations, United States, the European Union, Australia, Japan and ASEAN (although the nations in the last are actually the SPDC's allies and co-conspirators), to sit on their hands and do nothing, guarantees that these crimes will continue: more people will die - every day.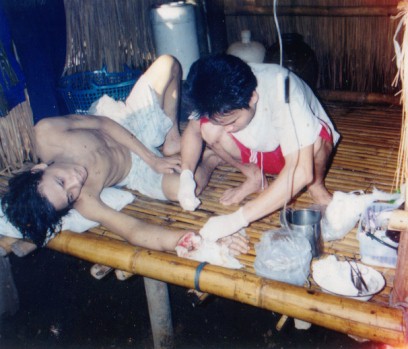 This is a Karen farmer, from the area in Burma across from Kanchanaburi. He was shot in the arm by SPDC soldiers while tending his crops, in October 2001. In the photo he is being treated by a Karen medic at an IDP camp inside Burma. Following this, he was assisted to the Thai border, allowed by the Thais to enter the country, and then taken to a hospital where his lower arm was amputated. He is now in a refugee camp.

His family abandoned their farm and followed, but they were not allowed into Thailand. They were part of a group of sixty-three internally displaced persons that were refused entry, which is documented in our clandestine photography exhibit. His family has been torn asunder, with little possibility that they will be reunited.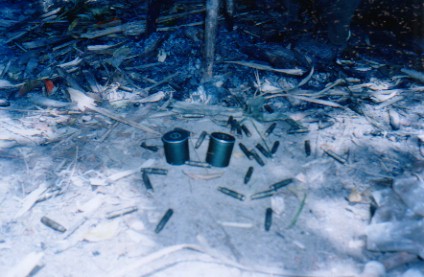 The aftermath of a slaughter: M79 grenade and G3 machine gun bullet casings. October 13, 2002: a camp of three Burmese traders was attacked at night by SPDC Battalion 25, led by Seargent Yen Pai. Two of the traders died and one was wounded.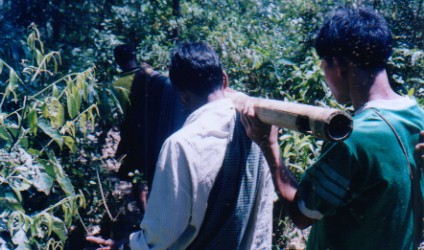 On hearing sounds of gunfire Karen soldiers rushed to the scene and drove away the SPDC. Karen medics treated the victims. In this photo the Karen are carrying one of the traders (the one in the last photo), although he subsequently died.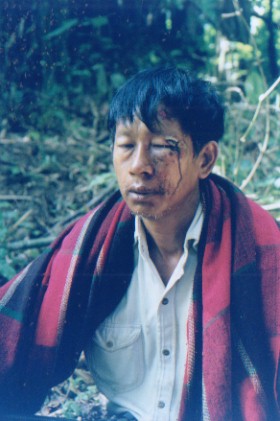 This is the man who survived, U Maung Tin, 49, from Han Kyi. He was hit above the eye by M79 shrapnel.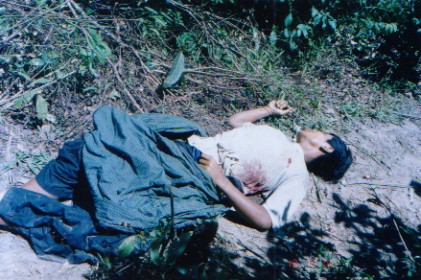 Maung Kyar, 18, from Tavoy, was shot through the chest with the bullet exiting at his side. He likely died instantly.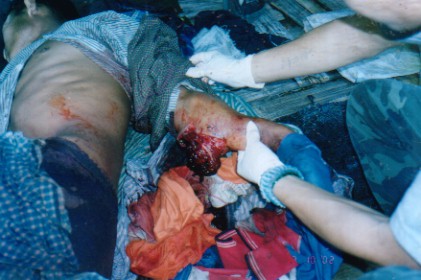 A bullet hit Maung Kyaw Naing's elbow and his arm exploded. (He was 24 and from Maung Thain.)


How many years will it take for the murderers to be brought to justice?
Will they ever be brought to justice?